Whew! It's been a busy couple months around here, what with the Husband-Dude injuring both his hands in a motorcycle accident, heading to New Mexico to make a movie, and starting New Awesome Job in earnest. Not to mention jaunts to the beach, the botanical garden, and exploring NYC's forgotten borough, Staten Island. Things have been so busy, in fact, that I'm going to skip right over all of that and talk about sewing. Yay! 😉
When last we met, I had just learned to use my hand-me-down serger to make this: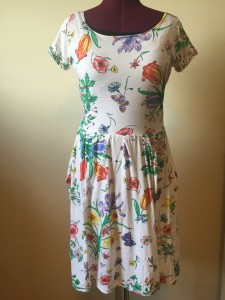 Colette's Moneta in a lovely Vittorio pima cotton jersey I got FOR FREE from the generous folks at Elliott Berman Textiles. I won their Fabriclove Giveaway over a year ago, and it's taken me awhile to suss out what to make with my spoils. Which brings me to serged thing the second: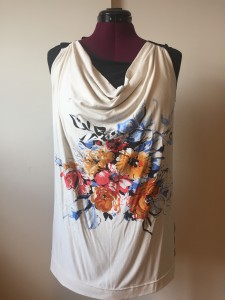 A tank from last summer's issue of Burdastyle! It was my first time working up a Burda pattern, and it was…adventurous. This particular pattern didn't really give any instructions past the cutting layout, so I was sort of on my own when it came time to assemble it. Luckily, it wasn't too tricky. The front is a panel print I also got as part of the giveaway, the straps are some scraps of black shirting I had around, and the back is some black jersey I picked up from the store around the corner in a pinch. I was in a pinch because of yet another serger project: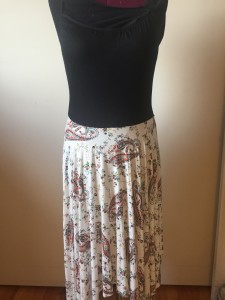 The Stevie Nicks-inspired handkerchief hem dress from the wonderful Famous Frocks book our friends Kate & John gifted me for Christmas. The dresses are really cool, but the patterns max out at a 37″ bust, so I have to draft anything I make from it up a size. Which makes starting with the knits in the book a much more forgiving exercise.
I had planned to make the whole thing from the paisley print rayon jersey on the bottom (from, you guessed it, EB Textiles), but after prewashing it twisted something fierce and I couldn't get it to lay flat in a way that allowed enough cutting area for all the pieces. I was somewhat cranky about that, and ran right out to the lifesaving shop-around-the-corner to pick up a solid that would match the paisley and solve my problem. Enter basic black. I cut my pieces, serged what could be serged, and then put the dress aside for awhile as I gathered the last necessary notion–black foldover elastic. My first attempt to apply it was disastrous, as I didn't realize how much I needed to stretch it while sewing it on. I wound up cutting it off and trying again with new elastic, with much better results. It's still a bit uneven, as you can see from the slight gathers above the bust on the right in the photo above, but it's miles better than the first try. And since I'm hoping to create some undergarments in the near future, I will have a lot more opportunity to practice!
That's all I have to show for myself at the moment, but I should soon have a finished sweater, a dress, a blouse, and some other containers of love to share. I hope your summers are as wonderful as mine!