It has been a good long while since I posted a recipe, and I thought it was about time to remedy that. Summer is here, and for us that means CSA season! We're eating our way through A LOT of vegetables, and this year we're trying to eat vegetarian as much as we can. This simple dish made with chickpeas is a big help in that direction, as it's super-filling without being bland.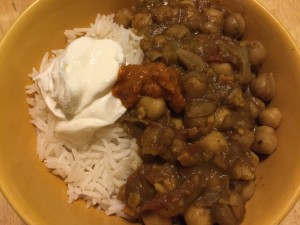 • 2 15 oz. cans of chickpeas, drained and rinsed (or a 1 lb. bag if you you prefer to soak your own, just add more liquid and simmer twice as long!)
• 2 Tbsp olive oil or ghee
• 1 large onion, roughly diced
• 1 Tbsp fresh turmeric, minced fine
• 1/2 Tbsp fresh ginger, minced fine
• 2 cloves garlic, minced fine
• 3-4 medium sized tomatoes, roughly diced
• 2 Tbsp garam masala*
• 1 tsp salt
• approximately 2 1/2 c. water
Garam masala is a spice blend you can find in Indian or specialty grocery stores (Whole Foods or Trader Joe's will almost certainly have it). If you prefer, you can mix your own! I like this blend: 1 T cumin, 1.5 t coriander, 1 t cinnamon,1 t cardamom, .5 t cloves, .5 t nutmeg, .25 t allspice, .25 t cayenne pepper. Mix all ground spices together, then measure out as needed for recipe.
Instructions:
In a medium-sized pot, heat the oil or ghee over a medium flame. Add the onion, ginger, turmeric, and garlic, and cook until the spices are aromatic and the onions are starting to turn translucent (about 5 minutes).
Add the salt and cook for another minute or so, then add the tomatoes. Turn down the heat a bit and stir well to ensure nothing is sticking to the pot, then add the garam masala. Again, stir well until everything is evenly coated in the spice mixture, and cook for about 3 minutes.
Add the chickpeas to the pot and stir, covering them in the spice mix as well. Once everything is well coated, add enough water just to cover. Put the lid on the pot and let the curry simmer. Check on it from time to time, turning the heat down as necessary to maintain a low simmer. It should cook for at least 20 minutes, but you can cook longer if you wish to create a thicker curry (or to soften your chickpeas if you used soaked instead of canned).
Serve over basmati rice, garnished with a little yogurt to cool off the spice if you like. And then, like me, you can add even more hot sauce. 😀