For those of you following along at home, I landed myself a part-time job. Both the up-and downside of this job? It's a yarn and fabric store staffed by the loveliest and sweetest bunch of enablers you ever met. 🙂 To wit, I present the Mississippi Avenue blouse (view A of the pattern):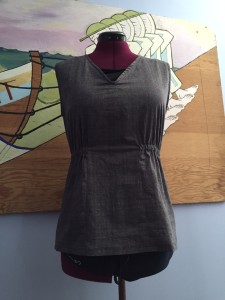 I had this pretty gray and floral print fabric earmarked for Colette's Hawthorn (again, the blouse view), but my new coworker Pia had a sample of this dress up in the front of the store as advertisement for her sewalong class.  It looked so simple and so cute, I couldn't resist. Plus, I found much better fabric for the Hawthorne. Sigh. Willpower. I do not so much have it.
As you can see from the modeled photo with the lovely Geraldine, the fit of this blouse is pretty great thanks to the elasticized waist, but it's kept from being too "bag lady" by the flat front panel. I didn't do the prescribed shoulder ties, because they were far too fiddly to turn after stitching as directed. I tried to do a little gather there with clear elastic to take up the excess fabric, but it looked awful. So I did as Pia recommended and just put in a little pleat. It gives a nice line to the sides of the v-neck and improves the fit in the shoulder without ties.
And it came together insanely fast. I'm already planning to make the proper dress in some black and white gingham I have in stash.
Probably with shoulder ties.