I've got a bit of a backlog of finished items to share, so I might actually make something of this whole Me-made May trend. Item the first? A sweater!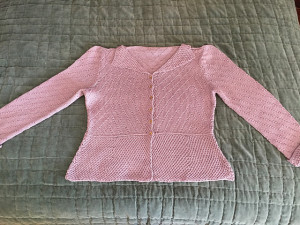 I started this one way back last April for my dissertation in the final round of Nerd Wars. Due to time constraints of Awful Job, I didn't even come close to finishing. I've been on something of a tear to complete or frog all my half-finished projects lately, and Joy was one of the first things to get some attention.
This is the third sweater I've made out of Rowan's Vintage Knits book, and I must say, I find their patterns to be a pain in the butt. The directions are obtuse, the sizing is awful, and a lot of the shaping (please observe the sleeve caps in the photo above) is crummy. But the photos as styled in the book make me want to BE that English/French countryside fairy princess, so I keep on knitting them. Sigh.
The pattern calls for fingering-weight wool, and I instead worked it up in a heavy-fingering weight cotton. I omitted the beads and just did purls so as not to add even more weight to the finished garment. I skipped the buttonholes and sewed on snaps instead, with buttons on the right side facing on top of the male ends to give it a more vintage-y touch. The aforementioned sleeve caps I tried to pull in to a sort of "puff sleeve" shape.
I haven's actually worn this yet, but now that I have a thing (or two) that I think I can actually wear it over… but those are another post.