This has so far been a very popular year for comfort items.
The friends for whom I made the dragon-scale baby blanket of previous fame have (thankfully) kept me quite busy lately, first with making a repeat of the dragon blankie for another friend of theirs, and then with a ripple afghan for their sister-in-law who's currently undergoing treatment for leukemia. They picked a lovely, calming blue in one of my favorite blanket yarns of all time: Lion Brand Homespun.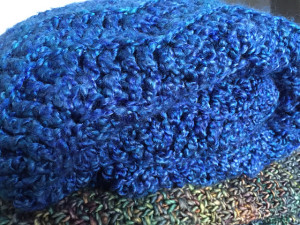 It's soft and snuggly and quite warm, all great blanket attributes. Towards the end of its making I had to take more frequent breaks because having the bulk of it resting in my lap would overheat me. The little sliver of blanket underneath is another of the double-seed baby blankets knit in a gorgeous colorway of Malabrigo yarn that I've been wanting to work with forever called Indiecita.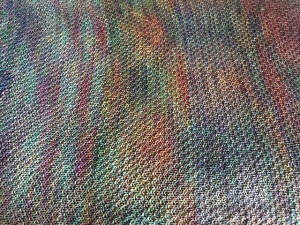 I love the way the colors moved through these skeins; it made for a really lovely blanket. And the double-seed pattern is such a nice texture to show off these sorts of colorways.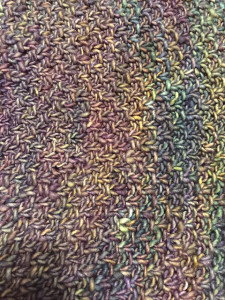 This blanket is heading to an old friend from back home due (any day now, in fact!) with her first child. It's also going with this: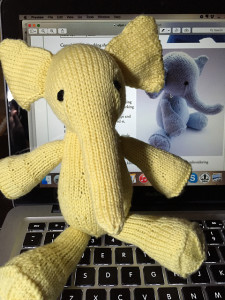 My third little Elijah. I love this pattern. The little critter is just so cute, and all the soft, squishy limbs make it a great choice for little hands.
So in the previous Containers of Love post, I talked about how it can be tough for me sometimes to make things for other people when I know I'll probably never get to see them enjoy or use the items. I resolved then to try a mental experiment to overcome this hurdle–namely, focusing on the joy (or in the case of these particular items, the comfort) that my creations would bring to their eventual recipients. And I have to say, it's helped. A lot. My motivation to finish has remained high and steady, which is no small feat considering that blankets are pretty monotonous crafting. I feel a real sense of accomplishment and joy when handing off or shipping the finished goods. In general, I feel pretty good about my making. And that has made for a real change.
And since I'm planning to make my making more of a cottage industry (stay tuned, folks), that is excellent news.