So many finished projects I need to tell you about. And the first one is this: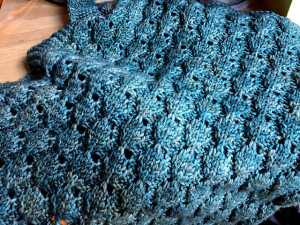 A dragon-scale inspired blankie for a friend's new baby boy. Since said friend is our DM and a great lover of all things fantasy, I though a draconic blanket would be a fitting gift. While Webs sent me a different yarn than the one I ordered, the color was perfect and it only turned out a bit smaller than I was hoping it would… ah well.
As simple as it is, I really enjoyed working on this blanket. At the same time, I was also working on a commissioned project for another friend, this time for pay. She found the sweater on a blog and posted a plea on Facebook asking if someone could make it for her. I took up the gauntlet, and produced this: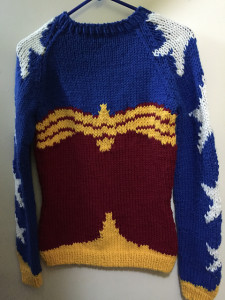 Despite getting rather disenchanted with it (and having the baby gift hurdle tossed up during its production not once, but twice), I'm pretty happy with how it turned out. It's a big, cuddly sweater of epic nerdy proportions, and from pics the owner has posted on FB, it seems to fit her great.
I've been wondering for the past couple weeks why something so mindless and boring (blanket) should be more enjoyable and compelling to knit than something nerdy and challenging (Wonder Woman!). I tend to have a hard time with things I'm making to sell, even when (as in this case) the item is going to someone I know and love. And after reading a post from the Yarn Harlot today, I think it has a lot to do with my frame of mind:
It's love. The things we make are beautiful, cozy, portable containers for love.
Gifts, even when made on a deadline, just feel like what Steph calls "containers of love." The whole time the work is in progress, I am thinking about the person it will eventually live with–how  much the item suits their personality, how they will use it, and whether they will (hopefully) love it. My "products," as I tend to think of the things I make for pay, I'm usually totally consumed with the potential problems–"what if it doesn't fit? What if they hate it? What if they want to send it back?"
I think I need to practice some meditative change: when I'm next working on my for-pay project, I'm going to consciously try to put the recipient's happiness in the front of my mind and see if it makes the making more fun. But first…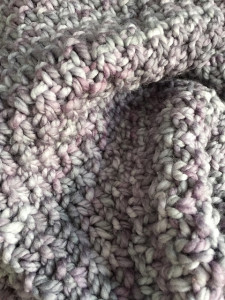 More baby gifts.