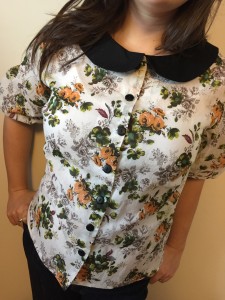 Yup. I still make stuff.
I finished this adorable little blouse yesterday evening. The pattern is Violet, from the inimitable Colette Patterns, with floral cotton voile from Elliott Berman Textiles (I love this shop so, so very much) and some plain black shirting from Gorgeous Fabrics (another favorite, recommended by Gertie). I completed version 2 with elbow-length sleeves gathered with elastic in a bias-tape channel. I decided to go with a bit less ease than the pattern recommended and cut an allover 8 instead of a 10 for my measurements, and I'm thrilled with how it turned out.
This project was a first for me in a few different respects: first collar (no stand, but hey, it's a start!), first set-in sleeves (and they were a cinch, really…thanks knitting for all the experience!), first series of buttonholes. That last was the only real bear; it took me several tries before I got the bobbin properly tensioned for my fabric and held down the thread tails properly, not to mention getting the holes just the right size for my buttons (which came from stash). Obviously I practiced on scraps, because the buttonholes on the blouse came out pretty well. I blew threw marking my pieces while I was cutting (because I hate cutting. Have I mentioned that before?) so one got marked a little off, but they're totally functional. Yay!
Husband-Dude as usual was happy to play photographer, but my preferred headless shot came out at a bit of an odd angle. So here's a headed one that also happens to include the headstock of his company's most recently constructed guitar. Anyone out there looking to buy a really pretty jazz bass? 😉