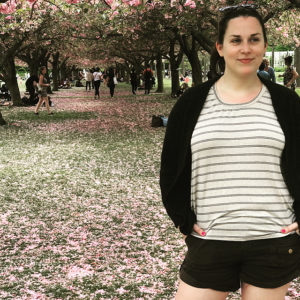 In addition to trying to create garments that fit well into my existing style and wardrobe, I've also been trying as much as I can to work from stash, using up yarn and fabric I've collected over the years and not buying anything new unless absolutely necessary. This project was a bit of a cheat on that front, but not exactly.
Years ago, when I was still working at Annie & Company, I bought a big whack of laceweight single-ply black cashmere. It was so soft and so glorious, and I knew someday it would be destined for a sweater just like the Featherweight Cardigan, a lightweight little layer perfect for carrying in a bag to throw on when the AC indoors got too chilly.
The more I thought about it critically though, the yarn wouldn't work for a sweater like that. It was not only single-ply (pilling much?), but it was super thin. The slightest snag might tear a hole in the delicate garment, rendering who knew how many hours of work completely moot. No thanks.
So I set the project aside for a long long time. And eventually, the idea came to hold the cashmere with another yarn, something that would increase its tensile strength and keep it from pilling too much. My original idea demanded laceweight silk (really hard to find in black, by the way), but after never finding quite the right thing, the bolt of inspiration struck and said, PEBBLE!
Shibui Pebble is a lovely yarn made of mostly silk with a little merino and cashmere thrown in. It's usually plied in two different colors, which when combined with the slubbiness of the silk gives it a sort of tweedy look. And the black/charcoal gray color they call Abyss was a lovely match with my black cashmere.
And a little more than a month later, this lovely crow-feather sweater flew right off my needles. It's just perfect, still as soft and light as I wanted it to be, but a little more sturdy and doesn't send me into a panic every time I feel it catch on something. And while I did have to buy quite a bit of yarn to make it, I figured as it was in service of using up a yarn I already had, it was a worthwhile expenditure.
And thus was the first project of the Spring/Summer Wardrobe Architect 2017 born!