It's been a good long while since I showed you some socks. And I've actually made a handful of pairs, so let's have a little coffee and catch up, why not?
#1: More Monkeys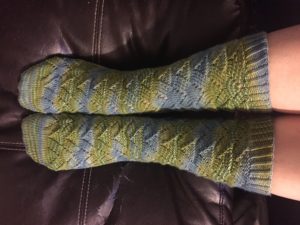 When I first started knitting socks, I made a lot of Monkeys. It's an easy-peasy pattern that works well with hand-dyed yarns, so when I came to this skein of Blue Moon Fiber Arts Socks That Rock Light (a club colorway from 2014, Hope Springs Eternal), I fell back on an old favorite. What can I say, I've been in a retro kind of mood of late, repeats all over the place. Like here:
#2: Inkwell Socks
I generally try to make the Husband-Dude a pair of socks a year, in his favorite cotton-blend sock yarn (Sock Candy from Blue Moon Fiber Arts). So this year I went with classic black, and despite having to rip them back to the foot and re-knit them after I gifted them to him because I'd managed to make them WAY too long, they were a treat. Pattern is Paul Atwell Socks, another repeat from several years ago when I made a pair for my grandad. I haven't bothered to photograph them, just because a) they're black and there's no point, and b) they're being worn so frequently it's almost impossible to catch them in transit.
#3: Rainbow Maelstrom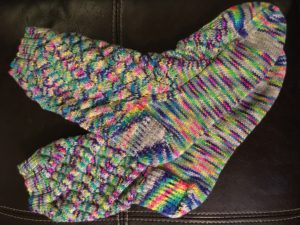 Yup, another repeat. I knit the first pair for a swap many moons ago, and never forgot how much I lurved the pattern. So when Giftmas arrived this year, and a serendipitous yarn swap put this crazy happy neon stuff in my grasp, my head went, "PIA!" and then it went, "MAELSTROM!"
And that concludes the backlog of socks from 2016, as well as this round of repeats.
#4: Fika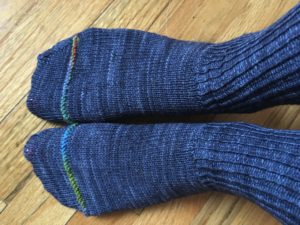 There's a thing in Sweden they call fika, which is basically a coffee break with a little snack you are supposed to take with friends or coworkers in the midafternoon. I learned on my trip last May that they take it very, very seriously. This pattern is (you guessed it) Fika from the Spring 2015 issue of Pom Pom Quarterly. They're super-simple socks with a cute little stripe detail on the toe, so I knit them up in a very Swedish sort of blue and used a twist of BMFA Socks That Rock for the colorful little stripe. While I didn't love this pattern as written, I think I will probably mod it and make it a million times. These were the January/February pair I'd queued for the 2017 installment of the SISC.
#5: Dream Warriors
We just started carrying Primrose Yarn Co. at the shop, and these were knit up in their Luscious Sock base, color Dream Warriors. When I saw the color, it immediately brought to mind a dear friend, and the color name just clinched it. A basic toe-up formula sock with mistake rib on the instep and leg to keep it interesting and show off the crazy colors. Again, I was so excited to gift these that I neglected to take a photo like a goofball. But hey, that's me. Goofball extraordinaire.
And this concludes our sock digest.