Oh, long sojourn of no-blog. The bonus of which is that I have all sorts of things to show you! But I'm going to start slow and steady and spread them all out over a little bit, so first up…
New Wardrobe Architect!
The Spring/Summer installation turned out, I must say, very well. The only thing finished from that batch that flopped was the Sara Lace Cardi, only because the shoulder shaping gives it a really awkward fit that just doesn't work on me well enough to make me reach for it often. But hey, 5 out of 6 ain't bad.
So I turned to the fall/winter session with some big, lofty plans. And then promptly abandoned half of them when patterns I liked more cropped up on my radar. To wit: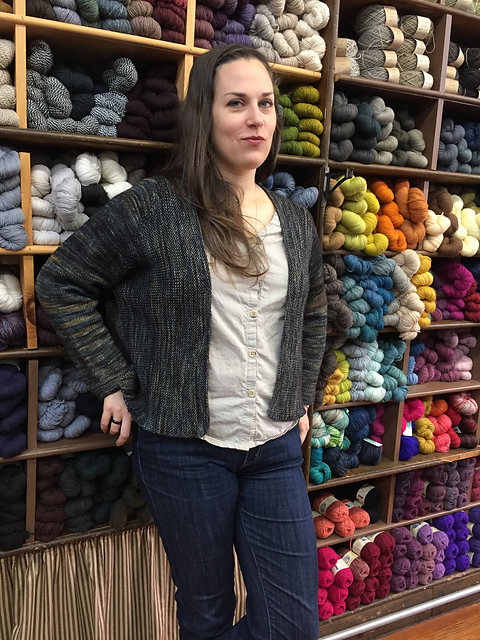 Snarky face* aside, I love this cardi SO MUCH. Pattern is Waits, by the one and only Bristol Ivy, who you may remember from previous Wardrobe Architect hijacks Hachure and Pintuck.  Waits is in fact a "top-down" version of her pattern Newsom, and since I tend to prefer Joanna to Tom (don't judge me), my project took its name from my current favorite piece of her musical literature. Bristol tends to design beautiful, almost architectural knits that I clearly find captivating, since I can't stop knitting them. Luckily, I can't stop wearing them either.
This one is knit up in my continuing love Malabrigo Arroyo, colorway Escorias. It's so soft, and the shape is so comfy, and the gently hanging fronts just feel a bit like wearing bathrobe out in public. I love it so very much. I started it in Friendship during Wine & Yarn Weekend 2016 (appropriately, since Bristol was in attendance), but didn't finish it till October since I got waylaid by reknitting Neimah's birthday socks and making ALL THE HATS for some friends (posts on those to come).
But there it is. An auspicious start to the next Wardrobe Architect…. what pitfalls will entrap our heroine now? Will she ever stop wearing project #2 long enough to photograph it? Will the pile of Giftmas crafting ever diminish enough to allow the WA to continue?
All these questions and more will be answered in subsequent installments of THE BLOG! Stay tuned, gentle readers. It's going to be a good year.
*Thanks of course due to the lovely Heather, who took my photo in spite of my whingeing.