I think 2016 has become The Year of the Repeat for me. I'm reknitting a lot of sock patterns I've knitted before (not that you'd know that… I need to show you some socks, huh?), and remaking a lot of things I made once but didn't get quite right. And this is another one.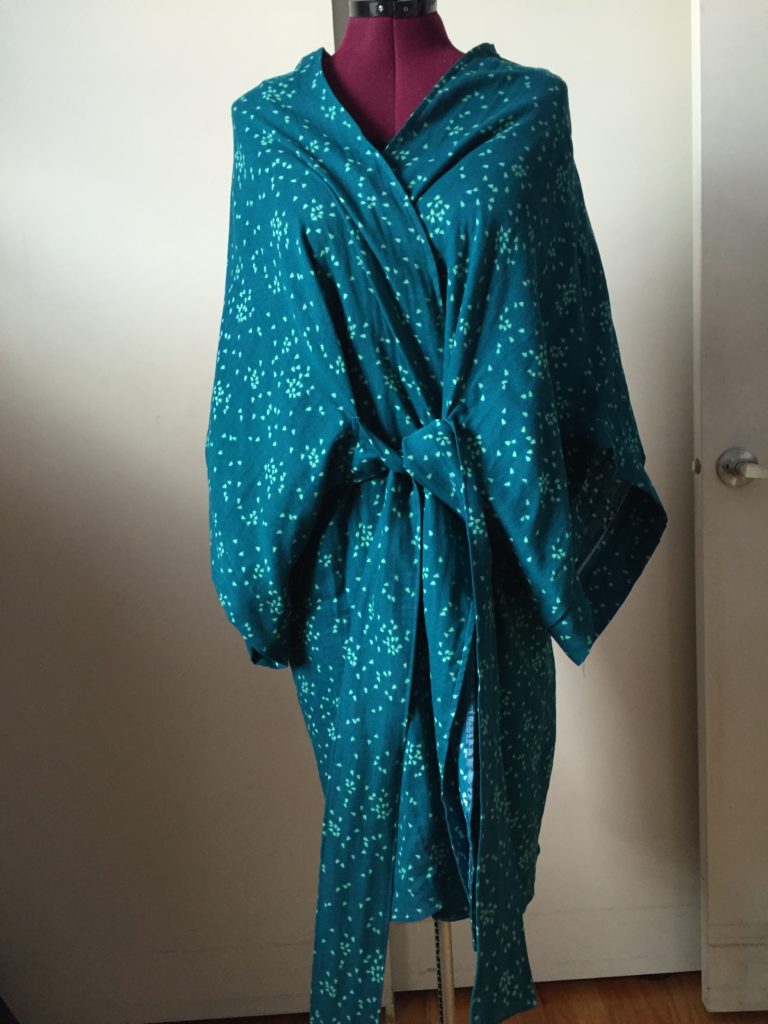 Savvy readers will recall that some time ago I made a bathrobe. I made it out of some cozy rayon doubleknit, and I just did my best with the pattern since it was a hot mess and I was converting it to work with a knit rather than a woven. And as far as bathrobes go, it did alright. It's more snuggie than bathrobe, honestly, and due to my wonky sewing it doesn't hang as well as you want a bathrobe to hang (meaning it has a tendency to try and gape and reveal my arty bits when I'm wearing it). Also, it's really freaking heavy.
I don't really wear a bathrobe that often, but sometimes there are people in my house and I still want to take a shower. In those instances, it's nice to have something that isn't just a towel to make the trek from bedroom to bathroom and back (I refuse to dress in a muggy bathroom. I consider it a form of torture).
Enter the lovely Seamwork magazine, and the equally lovely Almada Robe that was part of their loungewear issue. Seamwork is a product of the wonderful brains at Colette, and the goal is to give you lots of sewing tips, tricks, and know-how along with patterns that you can make up in under 3 hours. It's lovely. But you can also buy the patterns a la carte if you (like me) are sort of an idiot and don't subscribe. During one of their last sales I bought Almada. Then I waited ever so patiently for a fabric.com sale and snapped up 4 yards of gorgeous Cloud 9 Organics double gauze. And then three days ago, I had my (more than) three hours of making.
I got a little more fabric than required because I intended to make my robe a bit longer (about 4″, all told). I cut all the pieces, then serged all the edges that wouldn't be finished together after seaming, which was most of them. I followed the instructions pretty much to the letter, except I used rayon seam binding instead of bias tape to face the front opening so mine is much more narrow than theirs, and I omitted the snap. I figured I can always add it later, but for my purposes it looks and works just fine without. The only trouble I had was with the cuff, which seems to be drafted a bit too small for the sleeve opening. It's possible my double gauze just stretched out, since I didn't finish that edge, but whatever the reason I have several puckers on each one. Again, for the purpose this garment is serving, it's no big deal.
And oh friends it is so SOFT. And LIGHT. It's like fluttering about in a soft little fairy cocoon. I love it. And since it is just a little wisp of a thing, it's even PACKABLE. I might take it with me on my upcoming road trip to Maine so I won't have to dress in the bathroom up there! It will be a revelation!
And since it's not something I will wear out of the house, it's not a Wardrobe Architect project (I know, I know. But they're coming!). But all the same I'm so glad to finally have a more functional robe, and one that makes me feel ever so feminine and sweet too. Thanks Seamwork!