A couple years ago, I got us a new bedspread from West Elm. It is glorious. It is a velvet quilt that feels like sleeping under a soft lead blanket. I love it immensely.
Unless it's summer, that is. In summer, all those little velvet piles seem to cling to you like tongues of living flame, and it's hot and sweaty and miserable.
So last year, I decided it would be a good idea to make us a summer quilt. All cotton, no pile. I hadn't quilted anything since I was, oh, about 12, so I decided to go "easy." I planned a queen-sized (we're hoping to get a bigger mattress soon) charm quilt, just 4×4″ squares–easy to cut, easy to piece.
Plus matching shams. Because I'm not a savage.
I planned it all out on graph paper, buying the last yard or so of a bunch of the fabrics I liked at the shop at the time and arranging them by how many squares I could eke out of them and how the colors looked together. It was pretty momentous. Then it all sat there for several months before I got up the gumption to cut ALL. THOSE. SQUARES.
Then it all sat there for even longer while I stitched other things. Then as the next summer (this summer) began to loom large, I got serious. I pieced together strips. I pieced the strips together. And at long last, I had a top. Then I took it in to the shop, laid it out with some muslin and batting on the big table, pinned it, stuck a walking foot onto the machine with the biggest free arm we had, and QUILTED IT. Then I bound it. With kittens.
I took it home and I put it on the bed. Oh, sweet relief. It's not an ice pack, but it is a heck of a lot cooler than the velvet one. Certainly more comfortable to just sit on, for sure.
And then a month later, I finished the shams by much the same process. And now that the whole set I planned in my noggin is done, I felt it was okay to tell you about it. And show you (more than I already have on Instagram, at least):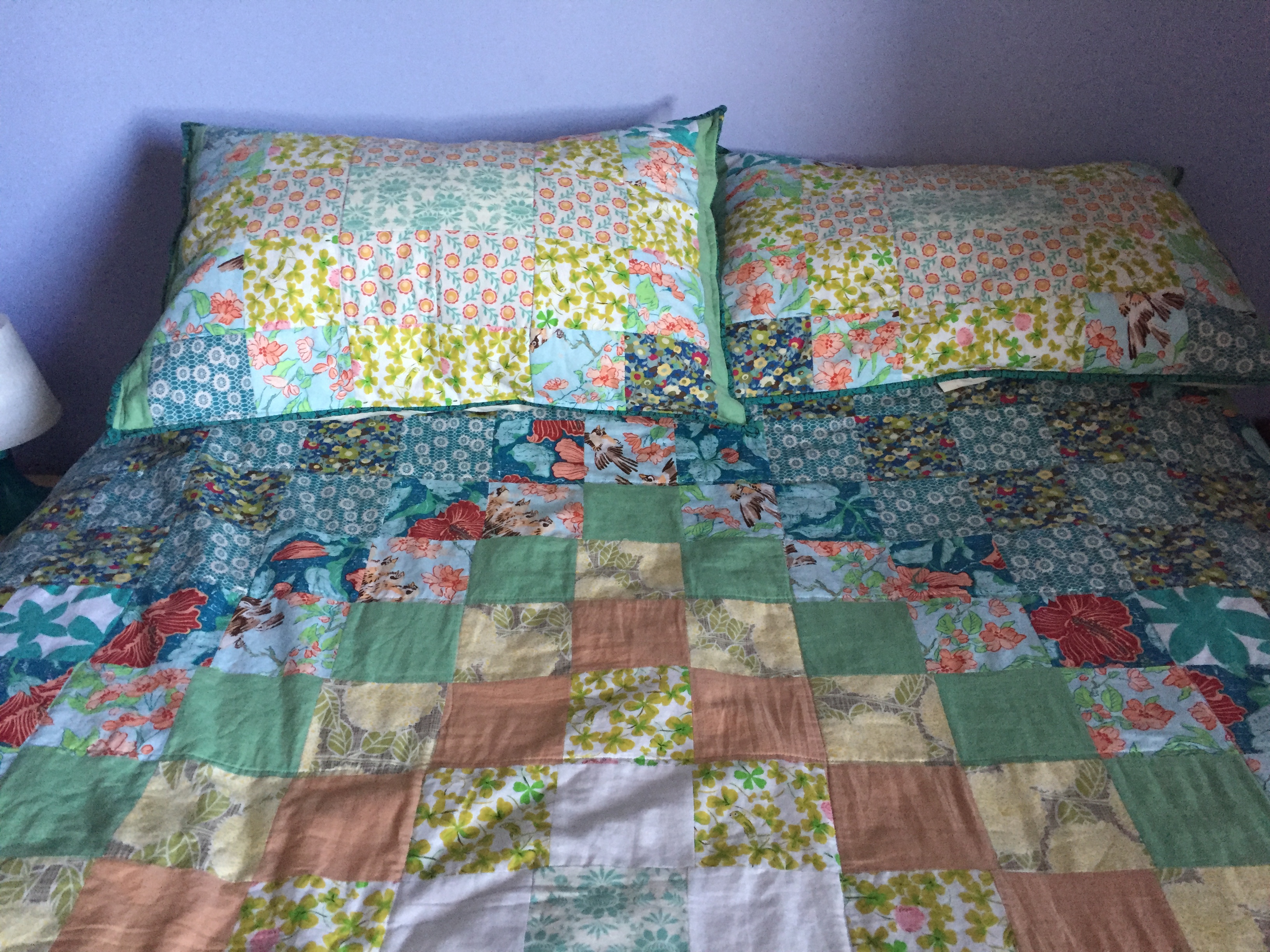 It is rumpled, because two humans and a cat sleep under and on it (I really should have considered that Smaug's trail of fluff is black before orienting all the light-colored squares in his prime sleeping spot. D'oh!). The pillows are different sizes, because Neimah and I prefer different amounts of padding between our knees and that's what we use those pillows for. The piecing is haphazard and doesn't always line up. The quilting is minimal and erratic, because I am impatient and not a terribly inventive quilter. But I think it's pretty, because I picked out all the fabrics. And I love it, because it's ours, and I made it with my own two hands so we could be a little brighter and sunnier and more comfortable in the New York summer.
And that means, to me, it's a masterpiece.
(Also I will never make a quilt this big again. So that helps too.)