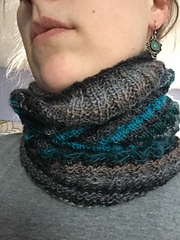 I realized something in January while I was working on Imitation Girl in the bitter cold: tucking scarf ends into your jacket can be kind of a pain the butt. I've made other cowl-type objects, and while I love the fact that you just throw them over your head and go, I was less thrilled that they inevitably grew out of shape and thus away from the very neck they were intended to keep warm.
So I decided to try something. I bought two balls of this lovely Lang Mille Colori Baby on a whim last year on the way back from Wine & Yarn Weekend, and I'd intended to make a Reverse Psychology with it. While I still think this pattern turns out a lovely project, the instructions made my brain hurt (and still involved tucking-necessary ends, obviously). So I switched gears. I cast on 184 stitches on a size 4 circular, and knitted plain old garter rib until I'd gotten through all of the two balls. Then I did a nice stretchy bind-off, and attempted to get it around my neck twice.
SUCCESS! The two layers force it to stay closer to my neck, but it's still loose enough (especially now after I've worn it a few times and the yarn has blocked itself) not to choke me. And it's still wooly. WOOHOO! I'm pretty proud of myself, but it will be getting its trial by fire in a few more days when I take it to Bolivia with me. Can you keep out the cold wind of the high desert, twisty cowl? Can you?!
Ya veremos, mis amigos.