The first pair of socks for 2016, THEY ARE FINISHED.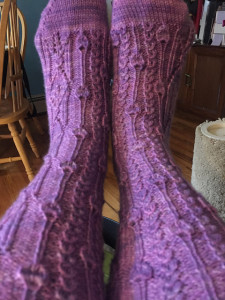 A fun, leafy pattern called Phloem from a forever-ago Knitty, worked up in Anzula's gorgeous Dreamy sock yarn (merino, cashmere, and silk — NOMZ) in color Iris. I'd been lusting after it since it came in to the store, and I decided that since this year's Self-Imposed Sock Club was going to be 12 pairs, I would earn a little bit of luxury here and there, and got some non-stash yarns to use. Starting off the year with a bang, though finished a bit late. Working on movies will do that, you know. 😉
Speaking of movies (sort of), fuzzy thing the second: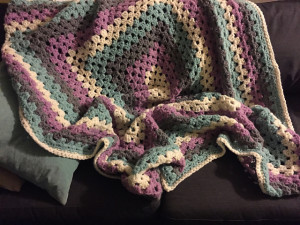 A granny rectangle afghan in Rowan's Brushed Fleece. This project was a commission from a new show for Netflix currently in production called "The OA." The production designer has apparently come into the shop before to get things made, and this time I was the only one with the free time to do it. We matched yarn to their color palette, and off I went. This was a really quick project (yay crochet with bulky yarn!) but it did take up more yarn than I anticipated. But on the other hand, it turned out so nice and cozy that I really want to make one for us now… perhaps.