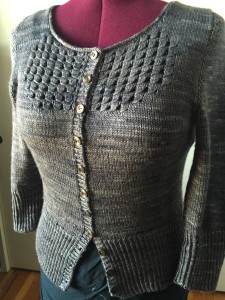 Words cannot fully express how much I love this sweater.
The yarn is gorgeous. Merino/silk blend from Sundara Yarn, in a gorgeous gray/taupe/purple sort of color called Smoke and Mirrors.
The pattern is perfect. Simple without being boring, with thoughtful construction details and pretty architecture.
It fits me super-well. It's like sweater girl-meets-Sandman, and it matches nearly everything I own.
The best part? I used up EVERY. LAST. BIT. of the yarn. And I finished a pattern I'd had queued up for ages. And it fits seamlessly into my wardrobe. And I love wearing it.
It basically has ticked all the boxes I set out to tick with the Wardrobe Architect project, of which it is most definitely a part.
Mission accomplished. Boom.
4 down, 9 to go.