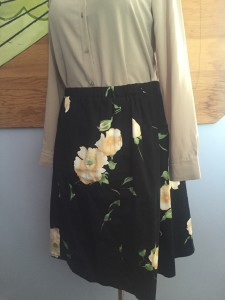 Bristol…what a quickie.
This was my first time making up a pattern from Colette's offshoot Seamwork Magazine. All their patterns are intended to take under 3 hours to put together, and I can definitely say that's the case for Bristol (not counting cutting, of course). I had this medium-weight cotton in stash from a Gorgeous Fabrics binge a couple years ago, and I thought the big, bold floral on black would make for a very wearable but fun skirt. The elastic waistband was a bit of a headache, but probably would have been less so if I'd taken my time a bit more. But hey, what I can I say? INSTANT GRATIFICATION. I also love the kangaroo pocket at the front. It's very handy for stashing my phone (or knitting, which inspired endless glee amongst my coworkers).
This was also my first time working with a downloadable pattern that didn't totally suck, and that's entirely due to the fine folks at FedEx Kinko's helping me print it out on the large-format printer. Not having to tape together a million pieces of letter-size paper really takes a lot of the rage out of the project, I'll tell you. It's enough to make me re-qualify my stance on the things: Downloadable Patterns — Not Even Once Only If They Come in Large-Format.
And…you guessed it… another Wardrobe Architect project complete! 5 down, 8 to go!