Add another thing to the list that I've learned thanks to Brooklyn General: Pom Pom Quarterly.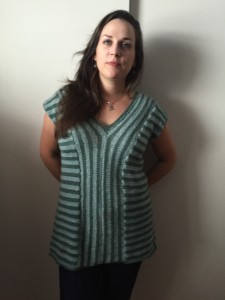 These lovely ladies put together a charming magazine every quarter, with some lovely patterns. This is my first go with one, a lovely, striped tunic by Norah Gaughan. I even worked it up in the recommended yarns, since we just happened to carry them at the store. I didn't make any changes aside from knitting the edgings in the lighter weight yarn.
The PPQ ladies came by a few months back and did a trunk show for us, and brought all their samples to try on. I loved this one from the start, and worked up in one of my favorite colors to wear (thanks, palette challenge!), it should see a lot of wear this fall… and maybe, layered with a longsleeved tee, into the winter too!
Another Wardrobe Architect piece is in the can…2 down 11 to go!