Procrastination, thy name is me.
I finished a little shell top in a wool/silk/linen blend for summer that I want to put the pattern together for.
So of course I'm doing everything BUT that. But for good purpose (sometimes)! My little sister is turning 13 in a few days, and I wanted to make her something fun to commemorate teenagerdom. Enter the Purl Bee's Wrap Pocket Tote: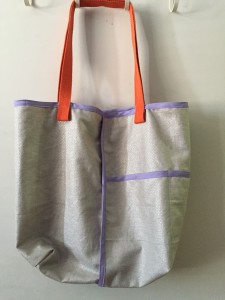 Worked up with two of Cotton + Steel's prettiest fabrics, a silvery, sparkly canvas outside and a pink, flowery inside: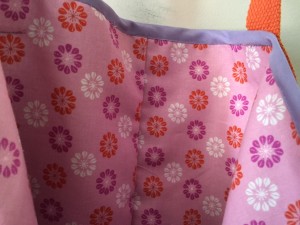 And finished with some purple bias tape and bold orange straps. Because why not.
This pattern is super cute. I want to make 100 of them for everyone I know now. Of course. The wheels are definitely turning… in case I get a certain friend in our Giftmas swap this year, if I suffer a freak accident in which all of my many tote bags are destroyed (nothing else please, just the totes) and I need to replace them, or just… every other gift-giving occasion I may have. It's fast to stitch, takes relatively little in terms of materials (even less if you read the instructions through before chopping into your strap material, grrargh), and is a great way to showcase some fun fabric that's a little too bold for quilt or clothing. I even used the selvedge edges of the lining fabric to finish inside, so the awesome names the C+S folks come up with wouldn't be lost: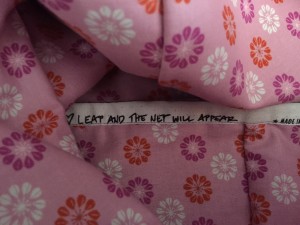 Not a bad philosophy either. 🙂