There's a thing makers on the internet do when May rolls around. They wear garments that they've made themselves and take photos to post on social media every day of the month to celebrate their craft. I've tried on occasion to participate, but I've decided to jump in with both feet this year:
I will post a photo a day on Instagram wearing at least one item of me-made clothing. When I feel the urge, I will follow up said photos with a post here talking in more detail about the garment(s) I'm wearing.
Okay. Let's do this.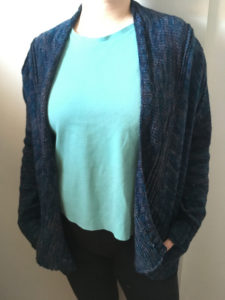 Item 1: a slapped-together tank based roughly on my ripped-off draft of a Swing Tank, with only the neckband finished because I only had a third of a yard of the Birch organic cotton jersey I was using. It's an around-the-house/PJ top, but it's soft and comfy and hey, I made dis!
Item 2: The Woodman Sweater from Bristol Ivy's wonderful Knitting Outside the Box. I made mine up in luscious Magpie Fibers Swanky DK, a merino-cashmere-nylon blend in a beautiful mélange of dark blues and grays called Empty Night. This was my February/March sweater (oh yeah, did I mention I'm a crazy person trying to finish 12 sweaters in 12 months this year? Yeah, I'm that crazy person), but our spring has been so long in coming that it's gotten a lot of wear. It's pretty enough to wear out, but the shape is cozy enough to just bum around the house in too.
Oh yeah. You might notice a bit of a theme this month… I do A LOT of bumming around the house.