I know. You're shocked. ANOTHER SWEATER.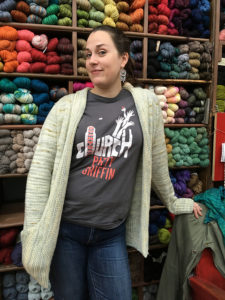 This one is Portage, a pattern I've been in love with for a few years now. But honeycomb cables eat up A LOT of yarn, and it was tough to decide exactly what color family and type of yarn I could use for this behemoth that wouldn't break the bank.
And then came Rhinebeck.
I had grand plans to just pick up a couple "souvenir" skeins and move right along, dedicated to my plan to knit from stash (and only stash) for the rest of 2016. Then we made a stop by Heather's booth to say hello, and I turned, and there it was.
Primrose Yarn Co. Dutchess in Lake House, 400 yards of gorgeous hand-dyed worsted weight wool in the strangest cream/olive/gray color with splashes of rose and royal blue. I picked it up. I smelled it. I noticed all the little surprise bits of color streaking through every skein. And I fell hopelessly in love. And then my yarn-fogged brain whispered to me, "Portage…" and my heart stopped a little. Could I do it? Would it work? I feverishly looked up the pattern on my phone, comparing the yardage requirement for my size to the four skeins I was currently squeezing. Even at the bigger gauge, I was pretty sure I'd need a fifth skein. I was crestfallen, but inside pretty relieved that my Cold Sheep intentions were remaining unchallenged.
And then Beth said, "isn't that another one right there?"
Clearly you can tell how this ends. My willpower caved, yarn got bought, and about five months later, a sweater was knit.
This was the third (and last) sweater in the "Husband is gone and I'm bored!" period of 2017, though it was mostly knit and finished after he got back from Rochester. I made only a few changes to the pattern: I knit it on 8's instead of 7's, I made the honeycomb twists proper cables because mine always look awful when I do them the way the pattern instructed, and I used the Icelandic bind-off for the shawl collar at the end to better match the garter stitch and still be stretchy enough to lay nicely.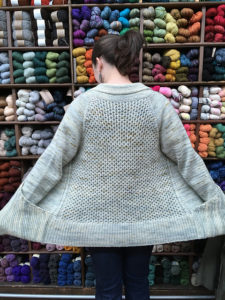 And overall, I am thrilled with it. It's so snuggly and cozy, the pockets are actually pretty functional, and it works a treat both as a bum-around-the-house sweater or a really warm layer for going out. The honeycomb cable on the back makes it feel almost padded. And at the end of the day, I didn't even break into that fifth skein. 🙂
*Thanks again to the wonderful Heather for her photographic panache!