Sometimes, you just need a plain black sweater.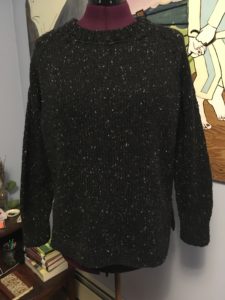 This was not part of my original plans for the Wardrobe Architect this fall, but after Catherine knit up a sample for the shop in the gloriously cuddly Arranmore yarn from The Fibre Company, the wheels began to turn. As much as I love a good cardigan, there's something so easy about a pullover. You don't have to worry about matching what you wear underneath the same way, or at all. And an easy shape like this, in classic black with just a touch of rustic tweed to keep it casual? It's just perfect. It goes everywhere. So I bought my five skeins and I got to work. And two weeks later, SWEATER!
Pattern is Carrowkeel, published by The Fibre Company as pattern support for the Arranmore yarn, which is a Merino/cashmere/silk blend. I made A LOT of modifications to this pattern, mostly because it's written to be worked flat and then seamed and I HATE seaming raglans. I also hate seaming with tweedy woolen-spun yarns like this one, because they almost always break and it seems like wasted effort. So I converted the pattern to be knit in the round (not as hard as it sounds, really). I knit the front and back flat until the side vents were done, then put it all together and did a traditional-type raglan from there, following the instructions for the decrease rates given in the pattern. There was also a little garter-stitch detailing on the sleeves that I omitted, because it didn't really show up anyway and I didn't want to sacrifice any length. I also knit a crew neck instead of the turtleneck, and good thing, because this was all the yarn I had left after binding the whole thing off: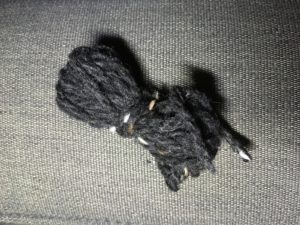 I knit the 46″ size, and like Rosehips before her, it came out a touch smaller because of my gauge–closer to a 44″. I wound up knitting it on US 8 for the ribbings and US 9 for the stockinette since that got me closest to pattern gauge and the stockinette on the 8's as the pattern required was just too sturdy a fabric for what I wanted.
And so. A classic black, boring-as-toast pullover that I've already worn a ton since it came off the needles. Which just goes to show, sometimes the fun things to knit aren't the first thing you reach for to wear. And hence why the Wardrobe Architect project exists at all. 🙂
And now I'm out of sweaters. So perhaps next time, SEWING!