Remember last month when I was all "no rly the next post will be sewing-relating I promise lol."
Hah. Not so much.
I DO still have a sewn thing to show you, honestly I do, but it needs photographing and ironing and all sorts of things and usually I'd rather just wear the damn thing, so… yeah. Slacking.
But the knitting mojo has been incredibly strong lately. So strong, in fact, that this knitted thing was finished in only nine days.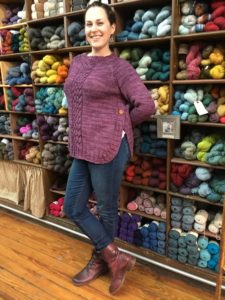 That's got to be some kind of record.
Pattern is the uber-popular Lemongrass by Joji Locatelli. Yarn is Jill Draper Makes Stuff Empire in Dark Rose, and those of you who follow me on FB or Instagram might recognize it from its former incarnation as a massive cake of yarn the size of my head: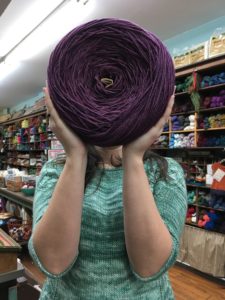 The Empire comes in skeins of 1280 yards, which is (as it turns out) MORE than enough for a sweater for me. I had been lusting after it since the moment it arrived to the shop, and decided that my Christmas "bonus" (which comes in the form of a generous gift card) would be best spent on this. BEST DECISION EVER.
Guys, Words cannot describe how much I love this sweater. The yarn is 100% American-raised Rambouillet, and it's SO WARM. And actually quite soft when you're wearing it. And the sweater is absolutely perfect. I did make a few minor modifications (knit a shorter crew neck than the folded turtleneck it called for, and lengthened the front and back of the sweater just a bit), but it's just wonderful. It's the perfect thing to just throw on over jeans and look like you actually tried to be stylish. I have gotten so many compliments on it. It's just such a cool design, lurking somewhere between pullover and poncho. It's fantastic.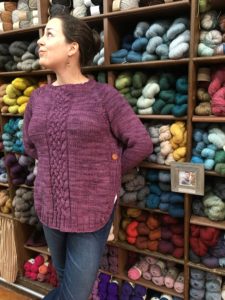 The last couple mod-notes for those interested parties: Buttons on the side are red oak slices from Favour Valley Woodworking, and I elected to just sew them on through both layers of the ribbed border rather than work a buttonhole and have them be functional, because a) it's not really necessary that they function, and b) lots of other folks on Ravelry mentioned that their buttons tend to slip out of the hole and send a draft up the old armpit. I also changed the way in which I worked the cable increases for the raglan sleeve shaping so that I could work them more easily without a cable needle (because cabling without a needle is SO MUCH FASTER). And lastly, gauge. You're supposed to knit this a touch loosely, and I did, but my gauge was a wee bit tighter and I liked the fabric, so I cast on the 47″ size and got a finished sweater around 45″, which is perfect. You want enough ease for something like this that it looks cozy, but not so much that you look like a balloon, and I think this kind of nails it. The only little thing I would change is to knit maybe 2 fewer rounds of the the crew neck, because it's still a little high and it can irritate my neck a bit. But honestly? It's perfect.
I'm not even going to promise you sewing next post, because let's be real… there's another sweater.
Thanks again due to Ms. Heather Love for being my bespoke photographer!