It was awhile ago. I am, after all, very behind on blogging. Anyway. Some time ago, Neimah saw a picture on the internet that looked a lot like this: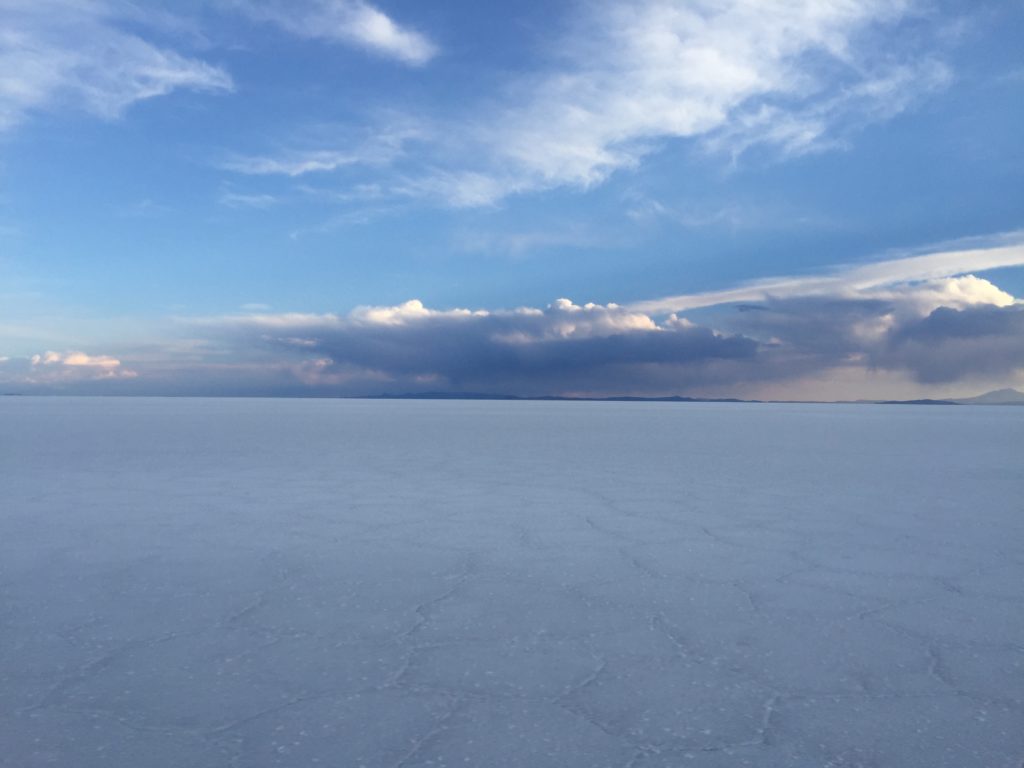 These are the salt flats of Uyuni, a massive 4000+ square mile salt desert in the high Andes. The picture shows them when they're somewhat dry, but the real reason people go to the salar is to see it during the rainy season, when they look a little more like this: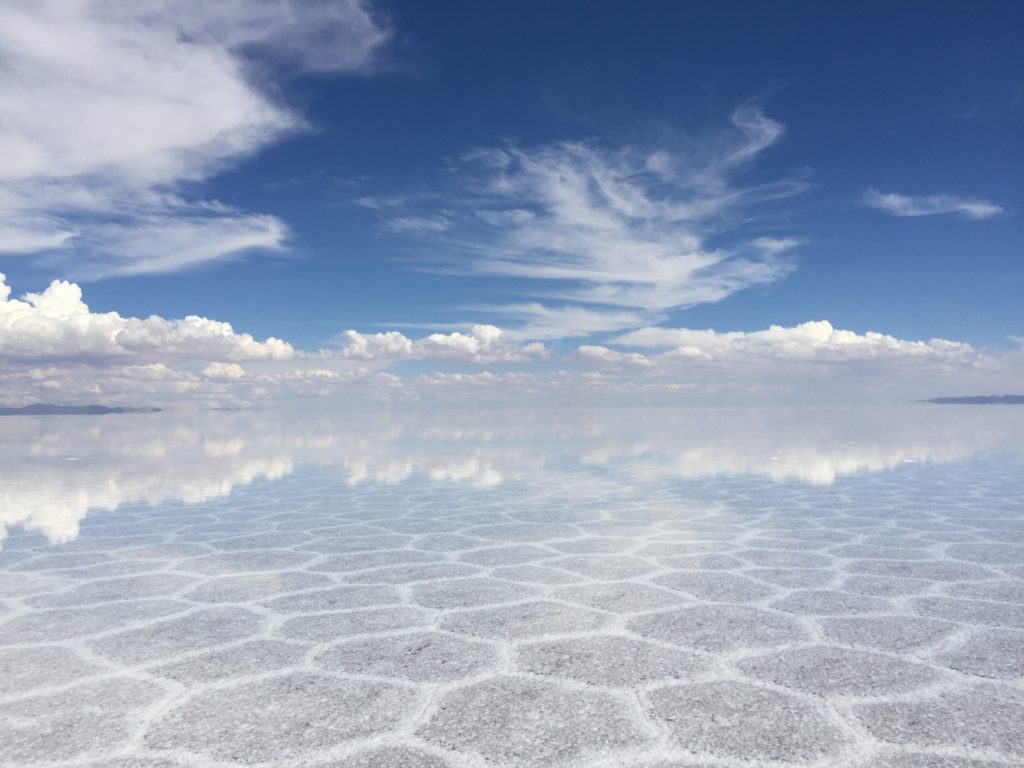 So a great big reflecting pool. Of awesome. Clearly, this lit a fire under Neimah to go and see this natural wonder for ourselves. As I tend to be from time to time, I was a little skeptical we could gather the necessary funds to make the trip. But Neimah would not be gainsaid, and when a miraculous stunt job some months later meant we had money (for a limited time) coming out our ears, plane tickets were bought and plans were made to spend 9 days in Bolivia. And this is how those 9 days went.
Day 1 – La Paz
After a series of flights from NYC to Panama to Santa Cruz, BO, we finally landed in La Paz. The highest altitude airport in the world. We had wisely gotten an apartment just for the day to leave our things and to take a quick nap (oh, red eyes), and it soon became apparent that our bodies were not thrilled with our height above sea level. Enter first revelation.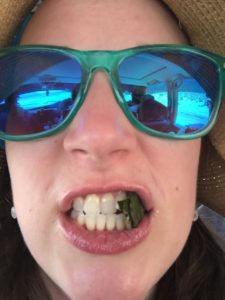 Coca. As in cocaine. The people of the Andes have used the leaves of the coca plant for centuries to combat the effects of their high-altitude home. I was a little reticent, but Neimah insisted it would help. And holy crap was he right. It doesn't lend you any kind of "high," but it does stop the headaches, nausea, and crazy fatigue of altitude sickness right in its tracks. And since our tour through the country would only lead us ever higher, this handy little herbal remedy was our constant companion.
We had an overnight bus to catch that night to Uyuni, so we didn't do much wandering around. We did pay our first visit to the Mercado de las Brujas (The Witches' Market):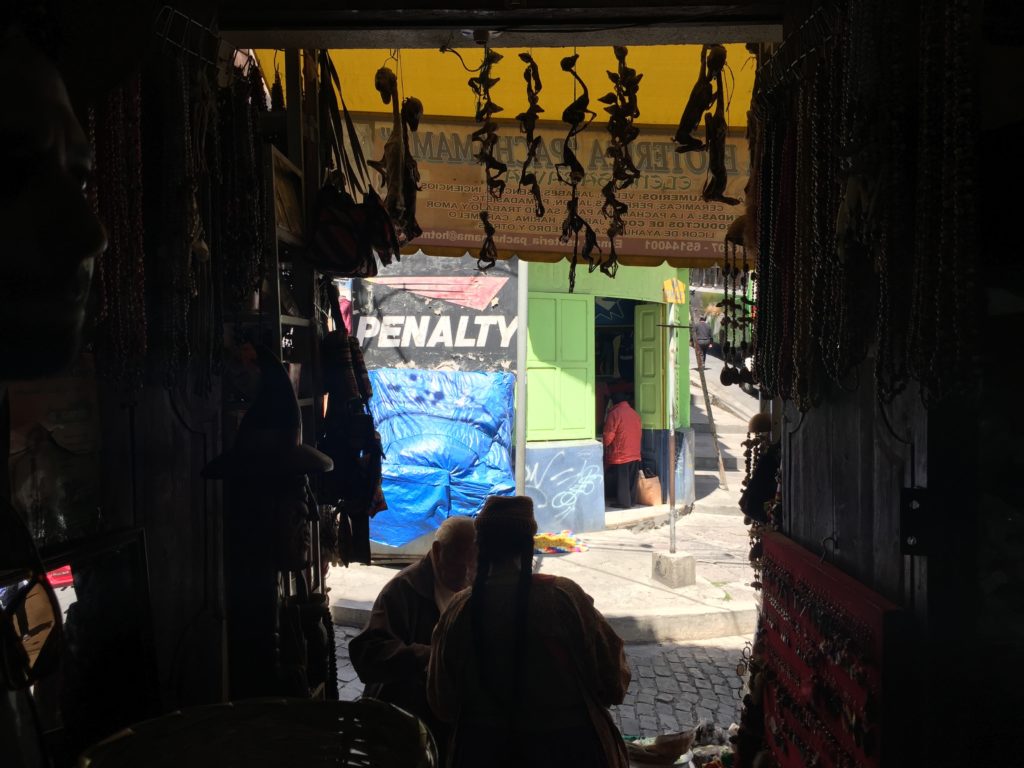 The indigenous peoples of Bolivia are a major part of the society there, and thus the native traditions have blended with the colonizing Spanish in really interesting ways. All the little tiendas in the mercado were just as likely to sell you rosaries and pictures of saints as they were talismans representing pachemama (mother earth) or natural remedies or totems. And, especially fascinating, most of the people you'd deal with at shops or to buy food were women… specifically indigenous women known as cholitas…but more on them later.
Days 2-4 – Uyuni
Our overnight bus was probably a comfortable rest for anyone other than Princess Me, and they fed us a nice dinner AND showed us The Martian. The trip took about 7.5 hours, and we were told that thanks to all the new tourism of dirt bike racing, the road had improved immeasurably over the past few years… apparently buses used to break down a lot. Yikes.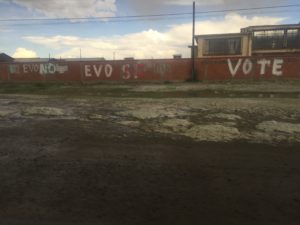 So it should be noted that right before our trip, Bolivia had voted on a referendum to allow their president (Evo) a third term. As you can see, the population was passionate and divided on the issue. Of all the graffiti we saw in Bolivia (and we saw A LOT), most of it concerned this referendum. It was eventually voted down, but in the more far-flung areas with larger indigenous populations, the graffiti tended in an Evo-sì! sort of direction.
So our first day in Uyuni we had some breakfast and got right to it. We'd arranged a three-day tour of the flats and the altiplano through a company called Quechua Connections — and they were pretty darn great. We toured with about 11 people in a couple of SUVs, and each truck had their own guide. They're one of the few companies who will drive you all the way across the salt flats, which is great for getting the more epic photo ops: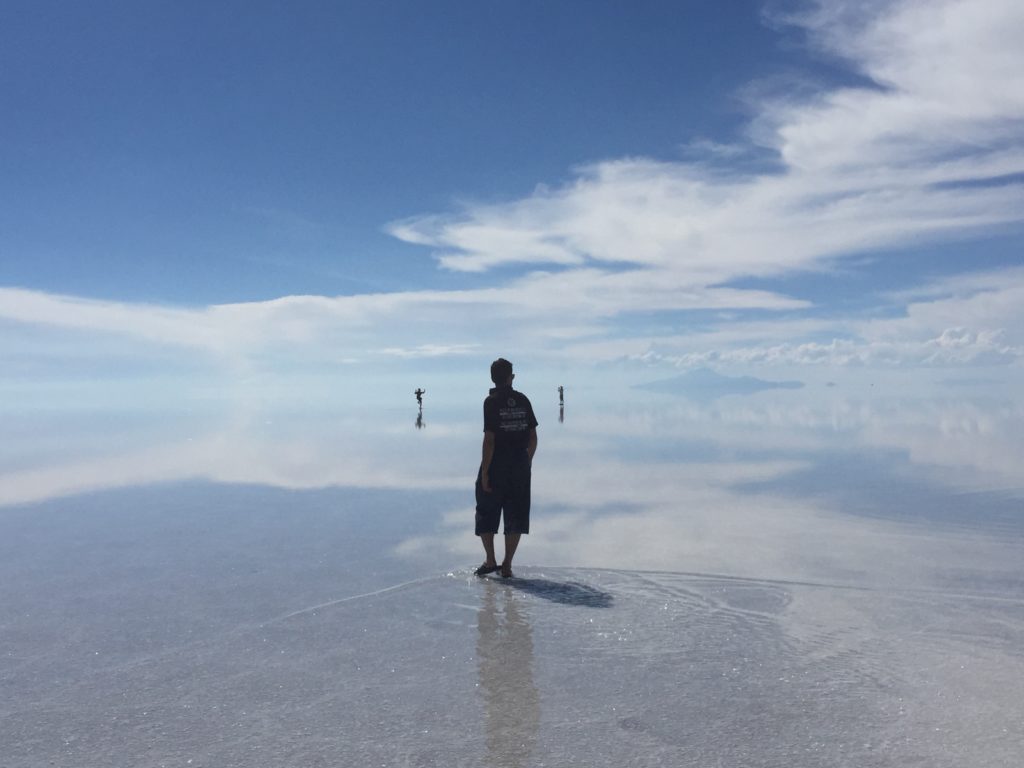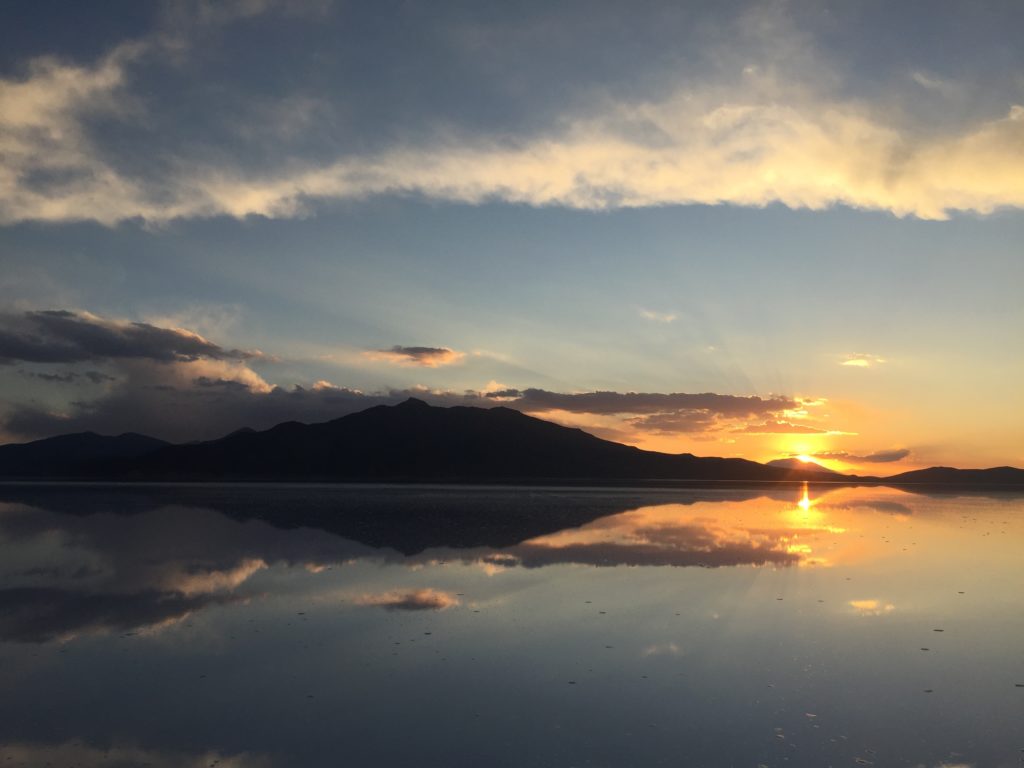 We spent the night at a little camp/dorm area on the far side of the flats. That was our typical accommodation over the three day tour. The showers were ambivalent, but the beds were warm (important) and the meals were hearty and lovely. The next two days were in real, honest-to-goodness desert, broken up by lagoons full of wildlife. We got to see where the quinoa comes from: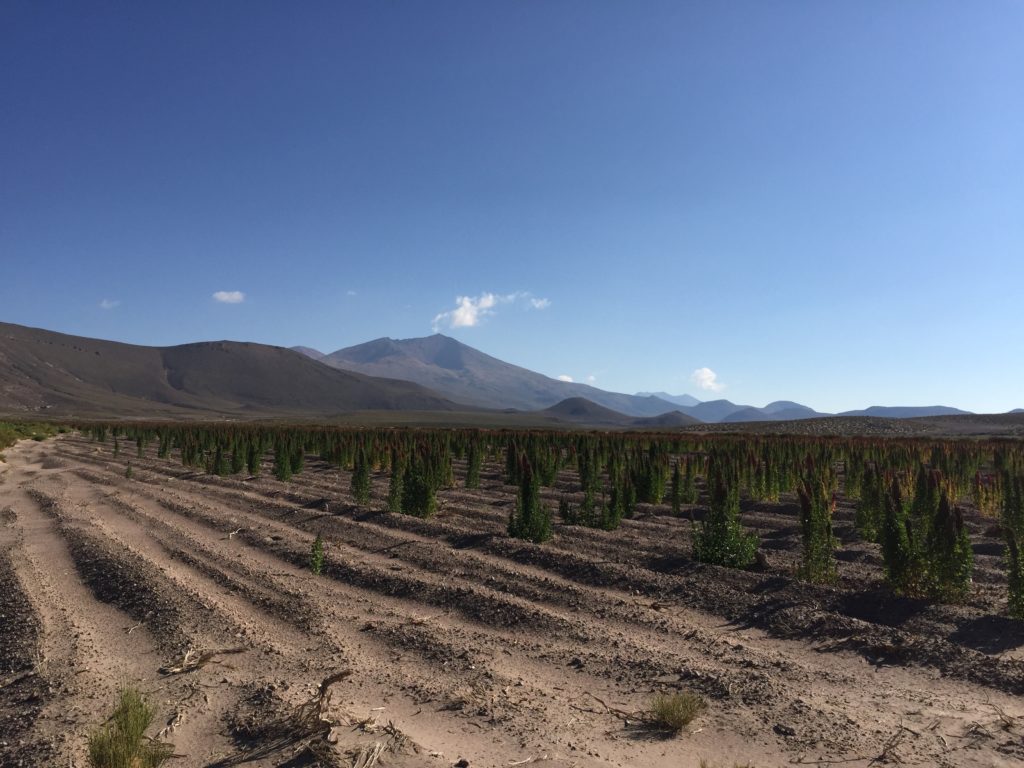 And where our delicious llama steaks from day one's lunch came from: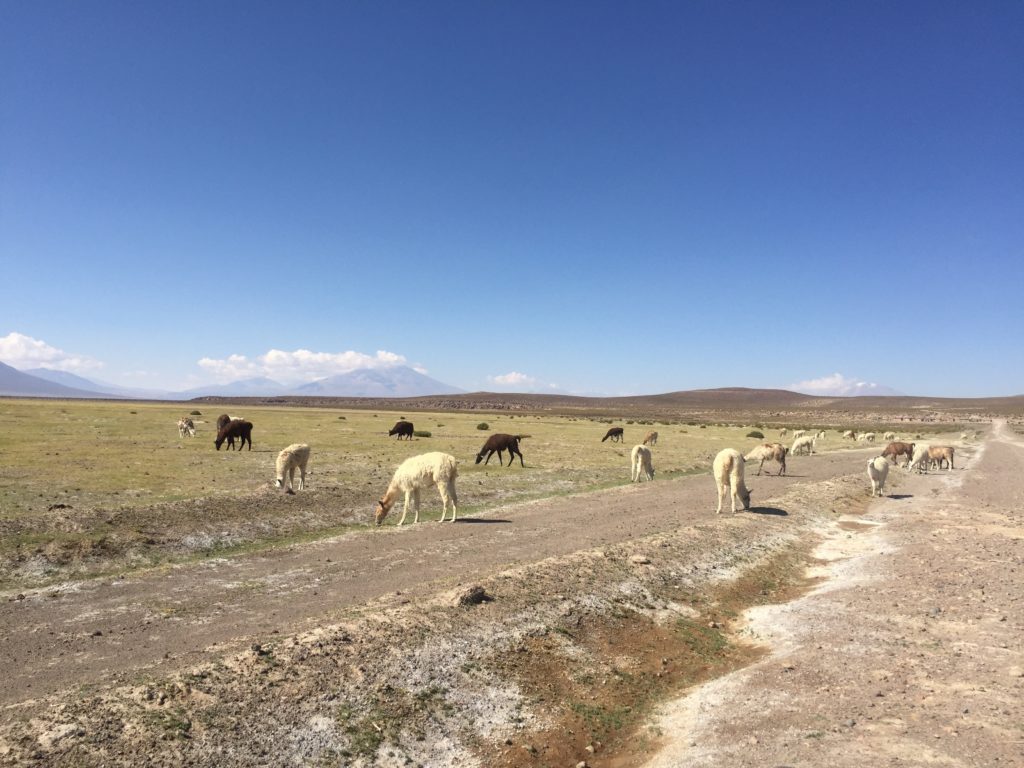 This particular bunch was not as fancy as some we saw…apparently it's customary to give your lady llamas "earrings" of colorful ribbons to distinguish them from your dude llamas…as our driver Silver said at one point… "sexy bitches."
At the lagunas, we saw a lot more of the wild cousins of the llamas, the vicuñas: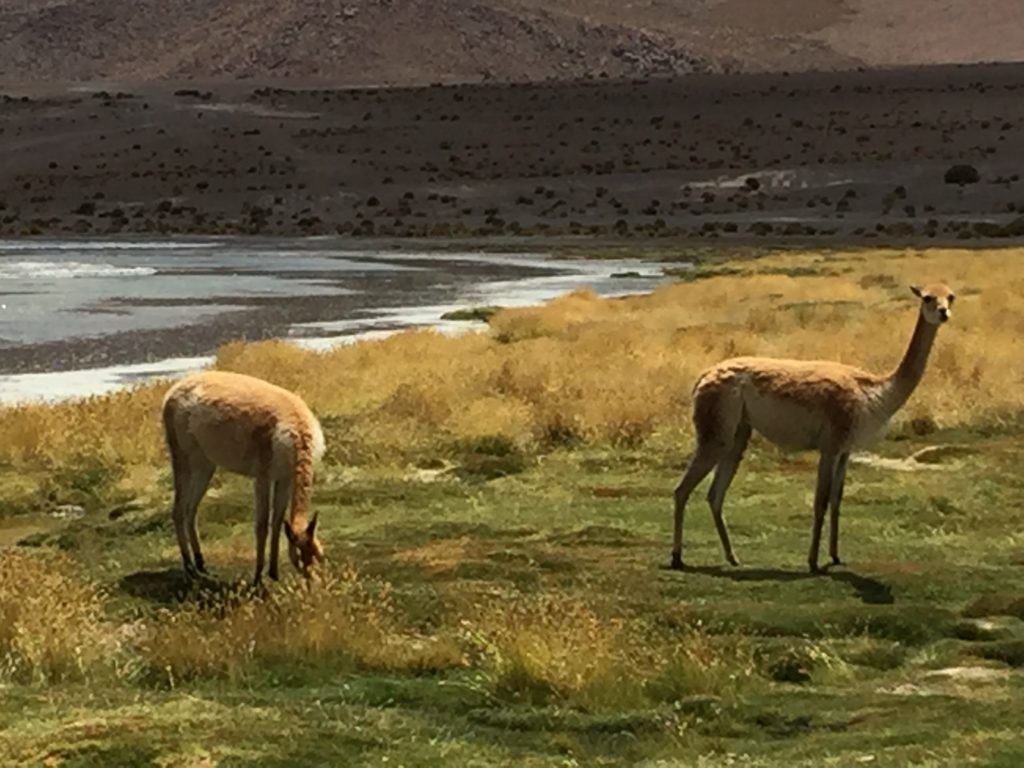 They are basically like dorky, goofy deer. They are adorable. And hilarious when they run. And protected by the government so they can't be hunted or raised domestically. Also populating the lagunas in large numbers were these guys: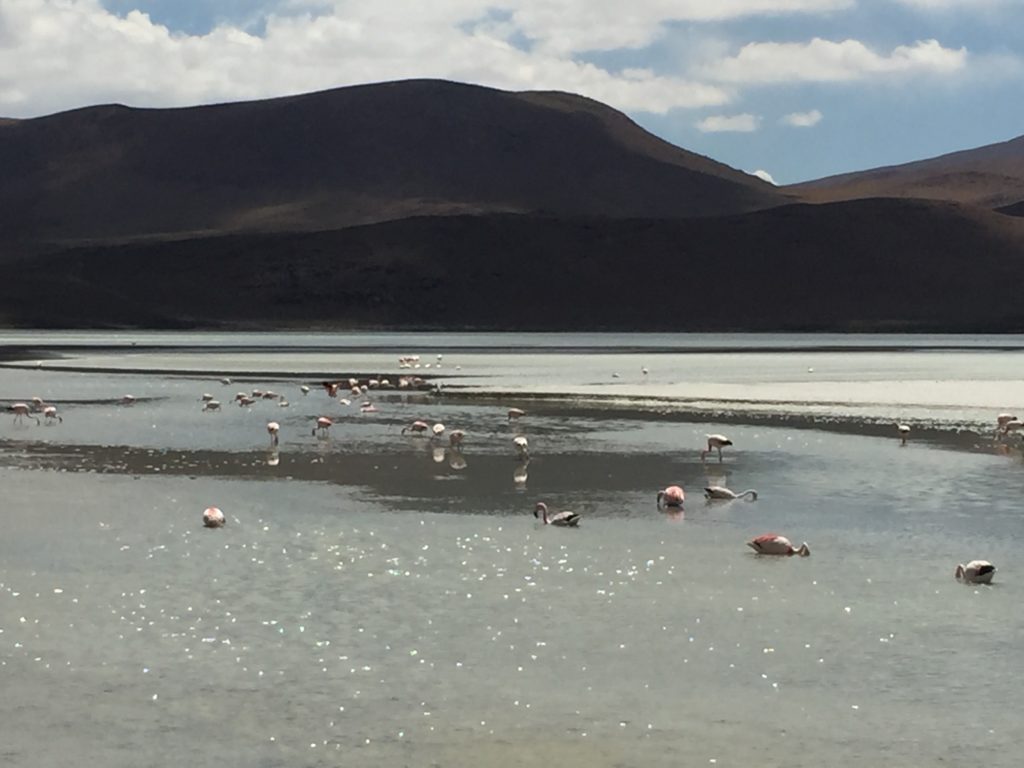 So. Many. Flamingos. They come here to breed, apparently, so there were TONS of them, and three different types. Our guide, who insisted we call him "Sexy Lucho," gave us the rundown on all three varieties, the Andean, the Chilean, and the "Flamenco James."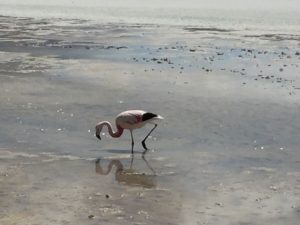 As we got closer to the Chilean border the lagunas gave way to plain old desert.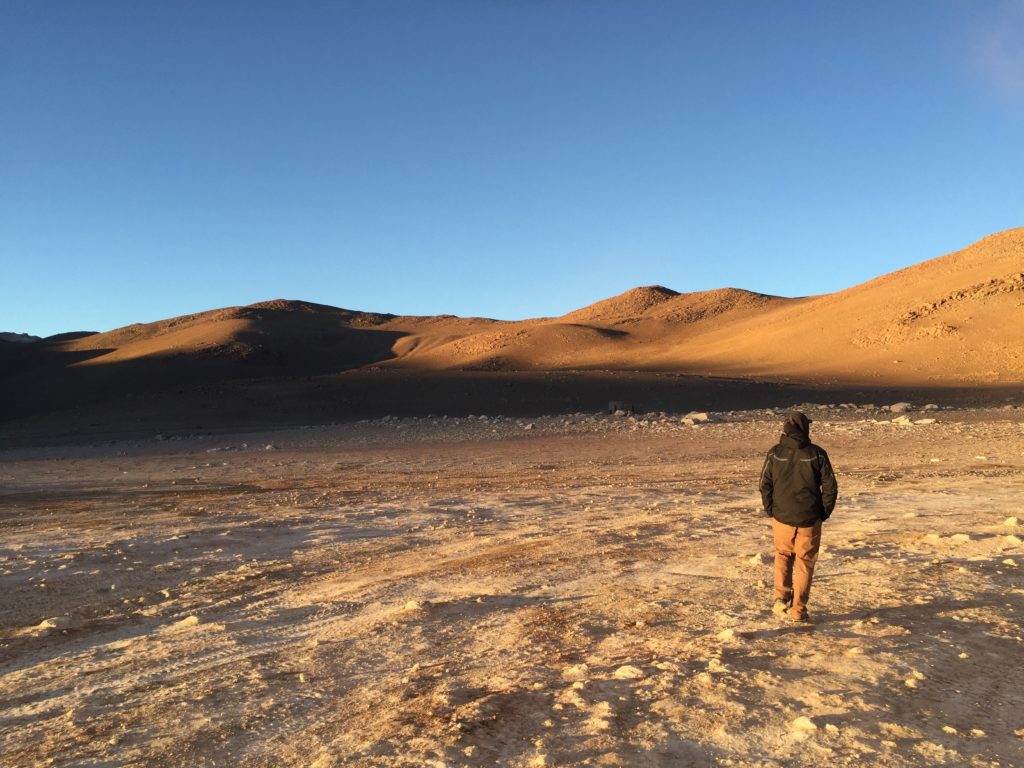 We stopped to look at cool rock formations and broad, sweeping vistas over the mountains, as well as getting up very early on the last morning of our tour to go check out some geysers: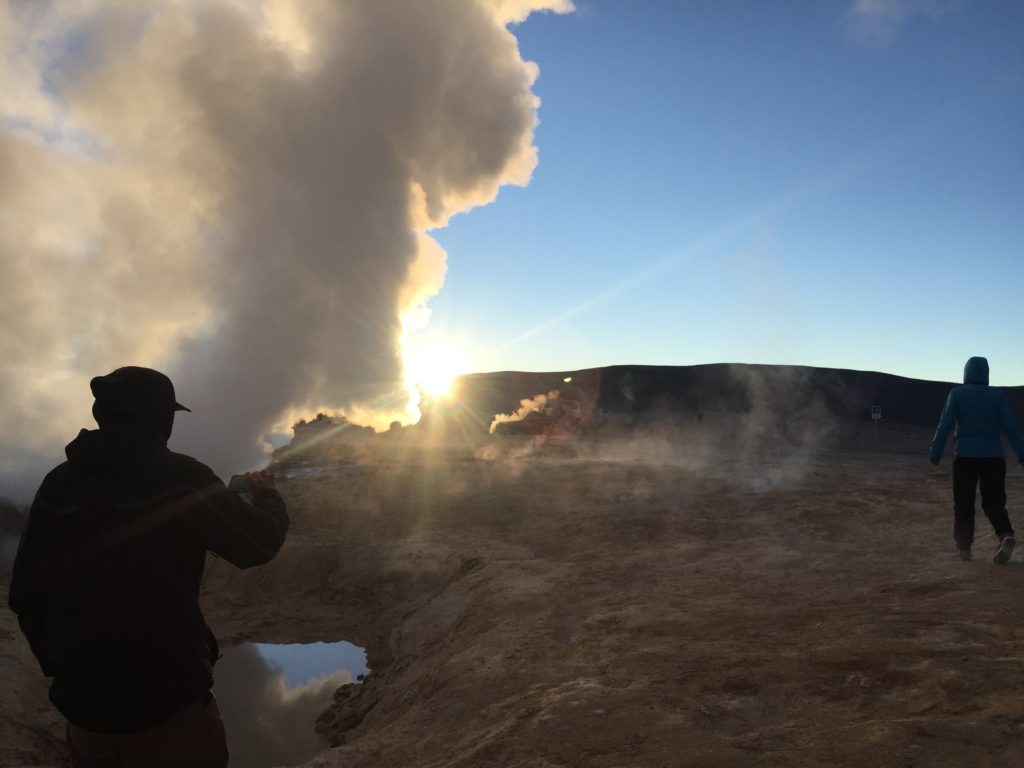 Day 5 – Potosí/Sucre
We stayed our final night in a hostel in Uyuni, then got up bright and early to catch a bus to Potosí, a silver-mining town whose claim to fame was bankrolling Spain's entire colonial period with its ore. We hoped to have lunch there at a place famous for a cold corn soup heated with a lava rock, but after wandering the streets in search of it we discovered it to be closed. And not just closed, but shuttered. Sad though we were, we had a bite in a little pension and then headed back to the bus station to hail a cab to Sucre, Bolivia's other capital city and the site of our evening's accommodation. We'd heard from the guide book that cabs made the 2-hour jaunt between Potosí and Sucre all the time, and thus were fairly inexpensive and quicker than the bus. We rode with our driver and an Aymara man, who slept most of the journey. It was a quiet trip, but it was a beautiful ride to a lower elevation and a more temperate region of the country that we'd yet to really see.
We got pizzas from a lady with a little cart that resembled nothing so much as an Easy-Bake Oven with wheels to take back to our apartment for dinner that night, supplemented with a little fruit and some palta (the Quechua word for avocado) we'd picked up at the mercado central in our initial wanderings around the capital city.
Day 6 – Sucre
We spent a lovely day wandering around Sucre, checking out an indigenous textile museum and just observing.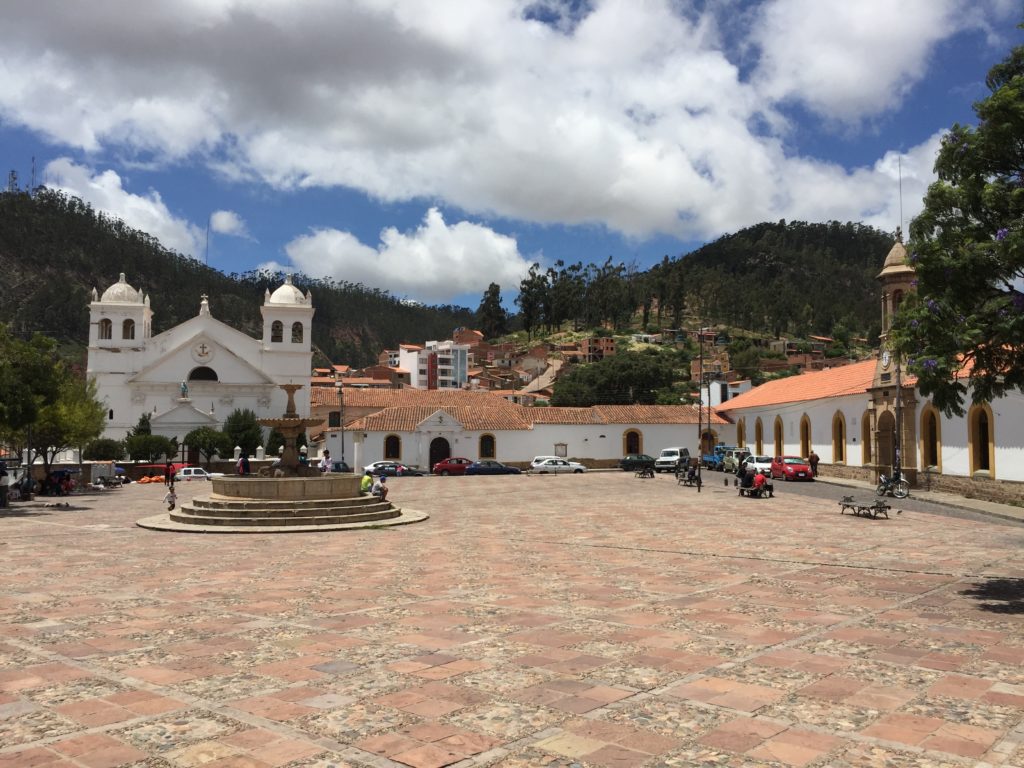 We had breakfast and lunch at some restaurants recommended to us by some of the other folks who'd toured Uyuni with us. Lunch in particular was really cool–we ate at Cafe Condor, a nonprofit restaurant that also runs excursions for tourists. Looking at their offerings, we decided we needed to return to Bolivia just to spend more time in Sucre and to check out the cities that bordered the rainforest, like Cochabamba and Santa Cruz.
We caught another overnight bus back to La Paz that evening, this time with one of the more typical bus lines instead of a tour company. We didn't get dinner, but the bus did have an on-board toilet, which was a bit of a luxury given the modus operandi of Bolivian public toilets thus far: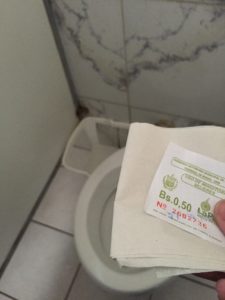 It was also supposedly "full cama," or full bed, meaning the seats would recline a full 180°, so Princess Me would be guaranteed a good night's sleep. Sadly, that did not turn out to be true, but the very nice gentleman we sat next to and chatted with for the first part of the trip definitely made up for it.
Day 7-9 – La Paz
We got back to the other-other capital city around 7 am, and headed to our final AirBnb accommodation for the trip. In a funny bit of serendipity, it was right across the street from the first apartment we'd let. It was a lovely home with a courtyard (and laundry!), and after our dusty travels we were thankful for the opportunity to sit in the peace and quiet as well as give all our stuff a good wash.
Honestly the last bit of the trip was something of a blur, but with two bright remembrances. The first is Tiahuanacu: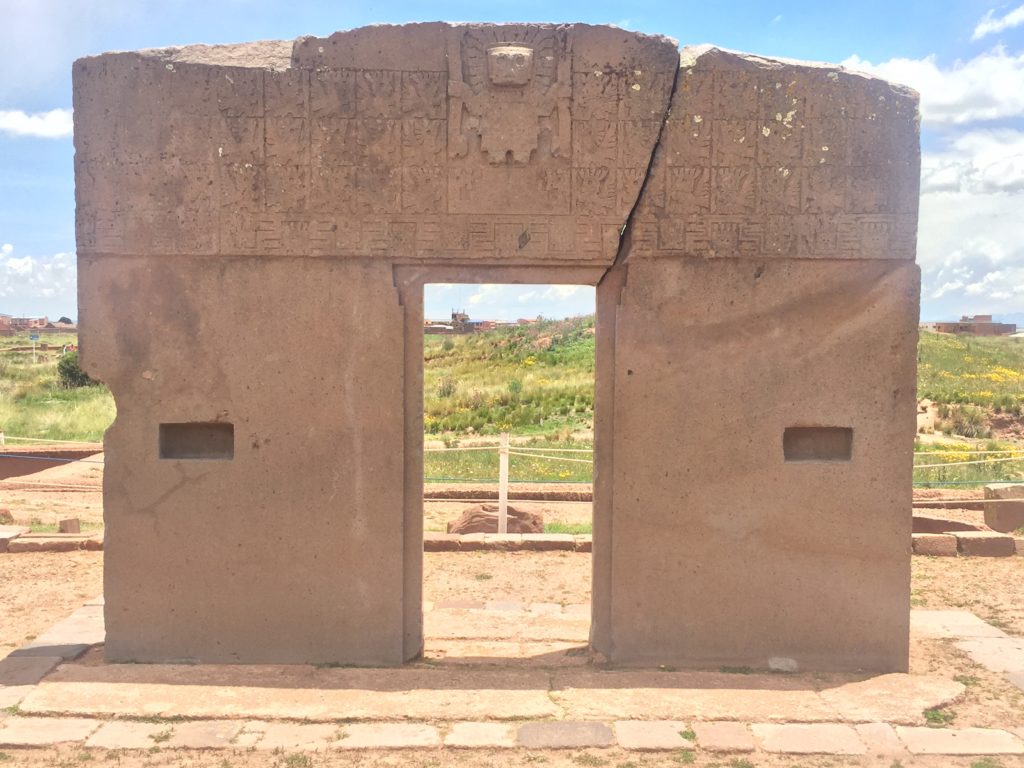 This is the Puerta del Sol, or Gate of the Sun, a relic from an ancient civilization that predates the Incas. We had heard that you could negotiate to rent a cab for an entire day to make the trek north out of La Paz to see the ruins, so of course we had to go for it. And even better, we convinced our cabbie to come tour the ruins and see the museum with us! The site was extremely impressive, and the artifacts in the museum were incredible specimens of craftsmanship, particularly the pottery (no photos allowed inside, of course). The trip was worth it for the drive too. On the way back I got a great shot of Illimani, The highest peak close to La Paz: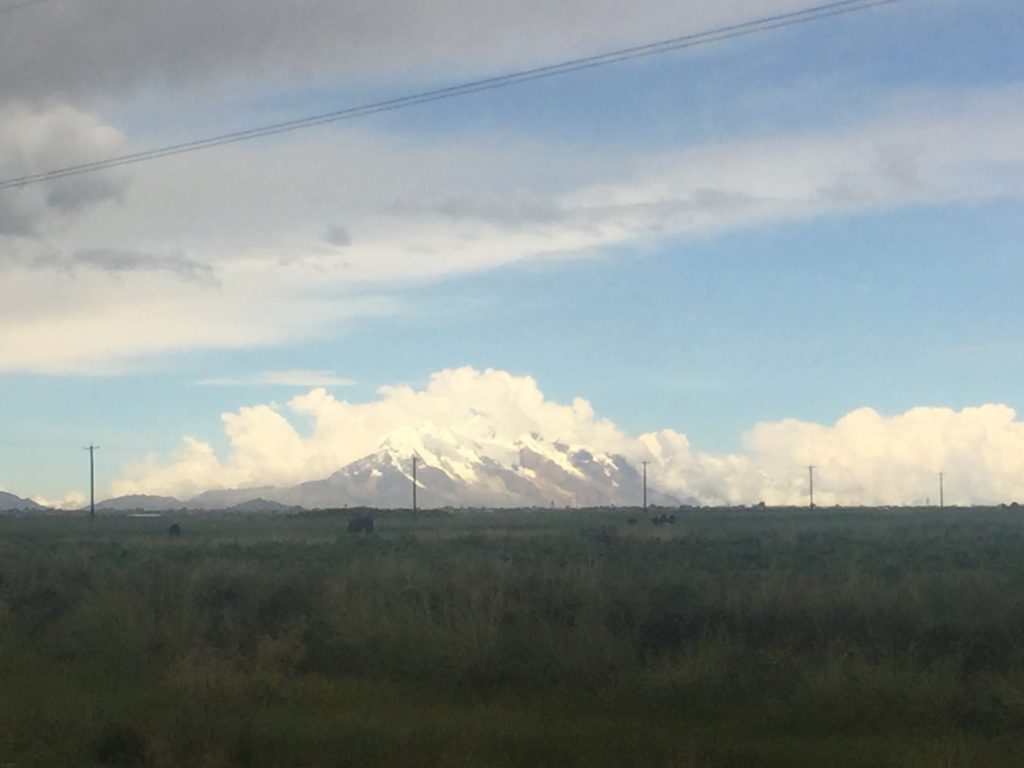 That night we decided to go out and hunt for the one Bolivian delicacy we'd been told we couldn't miss: anticuchos.
I haven't said too much about the food in Bolivia, not because it wasn't delicious, but mostly because it was very simple and much the same: lots of soup filled with potatoes and carrots and parsley with a big chunk of llama on the bone and either hominy or quinoa; llama chuletas or fish, with rice and salad (that we couldn't eat for fear of stomach bugs); and tucumanas (our favorite), breakfast empanadas filled with steak or chicken, a melange of vegetables, olives, and a hardboiled egg. Anticuchos are different–strips of beef heart threaded on skewers and flame-grilled. We did a little googling, and found that the best anticuchos were served just down the street from our apartment. The cart was supposed to set up shop at 8 pm, but when we went down to check it out…no cart. There was much sadness and much hunger, but Neimah convinced me to take a little walk with him and if they weren't there by the time we returned, we'd grab something else for dinner. Luckily, we didn't have to seek out alternatives.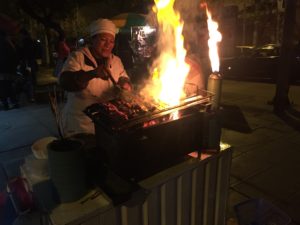 Anticuchos are apparently what we call here in NYC "drunk food." This cart sits just across the street from one of La Paz's universities, and serves from 8 pm till 2 am. Like most drunk food, it's cheap, delicious, and full of salt, protein, and carbs. For 6 Bs. (less than a buck), you got a little bowl of heart and potatoes smothered with a delicious, garlicky brown sauce. We inhaled our first one, and then promptly ordered another, which brought out grins from the chef and her helpers.
Right, lady chef reminds me. Remember how I said the women seemed to do everything in Bolivia? Apparently, in the indigenous culture, that's just how it works. The women go out and work, and the men stay home and cook and take care of the kids. It became something of a game for us: how many different things could you spot a cholita doing? They were all notoriously camera shy, but I did get one half-cocked photo of these ladies with their long braids, full skirts, and aprons.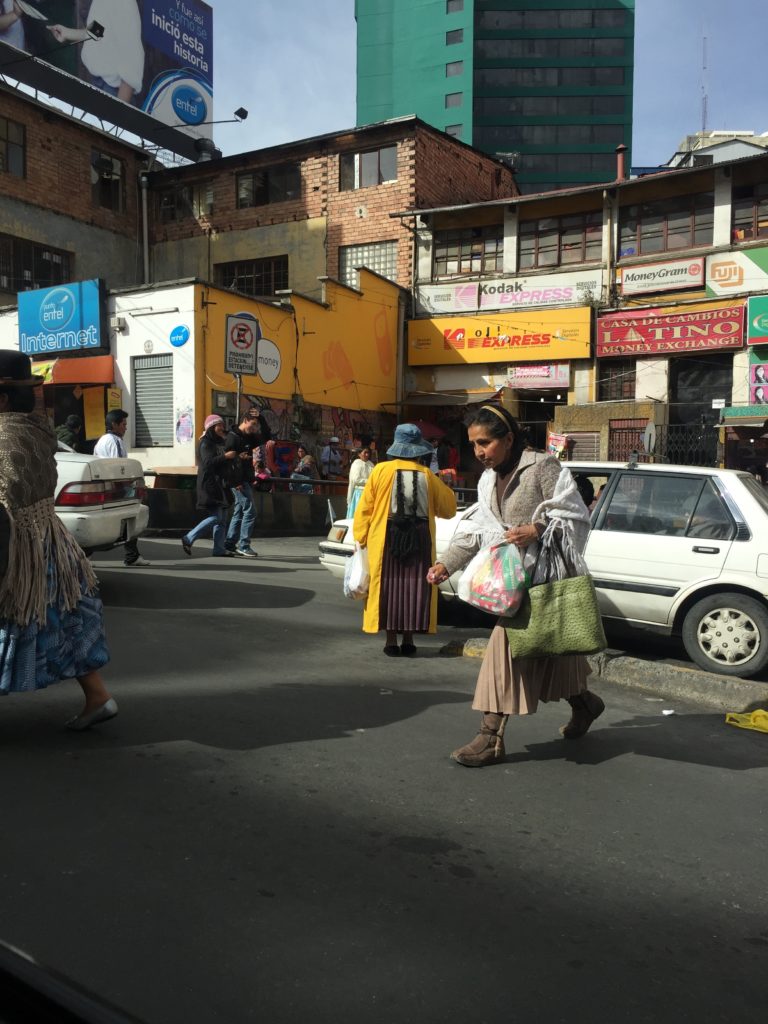 Like the cholita with her yellow apron in the center, selling flowers. And the one at the far left who walked out of frame before I snapped the photo, in her pretty silver shoes and fringed shawl, who was carrying a bundle that looked like it probably weighed as much as she did. In Bolivia, the cholitas run the shops, work in the market, take care of the parks, build the roads, and even populate the wrestling league. I very much want someone who's a better photographer than I am to go do a photo series entitled Cholitas Hacen Todos (Cholitas Do Everything), to showcase all the different things these women do… like climbing Illimani.
And that was our trip, in a nutshell. I have to say that Bolivia was utterly incredible, from the landscape to the people, and I really am excited to go back and explore it further. In the meantime I will look at the art we brought back with us, and all the pictures we took, and make plans for next time.