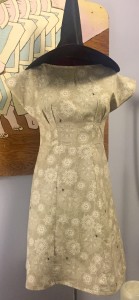 By Hand London's ubiquitous Anna Dress, in the midi length with boat neck. I stitched it up in one of Cotton+Steel's Spellbound prints, released for Halloween. I mean, it's CROCHETED SPIDERWEBS, people.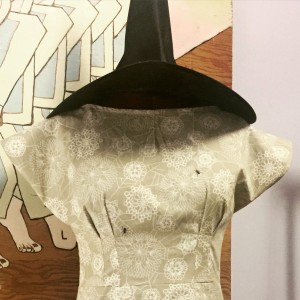 With spiders. SERIOUSLY. How could I not get this fabric? As you might infer from the witch hat perched atop it, I wore this for my Halloween costume to the store to hand out candy. But since I am weird, and like weird things, this dress is not only going to be relegated to Halloween. 🙂
I love the body of the quilting cotton for this dress, it gives it some lovely structure. If I were to use a thinner, slinkier fabric, I would definitely do the maxi view with the side slit, and probably the v-neck as well…nothing worse than a droopy boatneck. As it is, my Nanny Jo just sent me a care package full of fabric with two lovely shantungs in it, either of which would make a gorgeous, more classic version of this dress. As easy as it was to put together, you might look for another one soon!
Another Wardrobe Architect piece finished… 3 down, 10 to go!