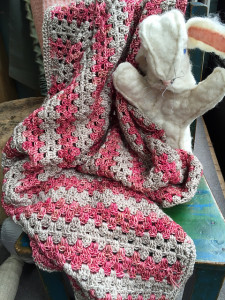 I think the baby wave may be coming to its crest.
A little tired of the knitted blanket jag I'd been on, I decided to break the routine with a crocheted blanket.
1500 yards of fingering weight on an E hook. Yeah, that'll be the speedy and simple refresher I was hoping for. /sarcasm
But I can't even be that grouchy at myself, because LOOK AT IT. Such pretty, soft, vintagey goodness. Colors are, of course, Madeline Tosh… the pink is Fragrant in the Merino Light base, and the beige is Antique Lace in perennial favorite Tosh Sock. The pattern is a simple 3-row granny stripe with two rounds of single crochet edging. Easy peasy.
But even so, I wrote it up. For free! So if you're looking for a pretty, simple, but elegant pattern for the newest little person in your life, give it a shot!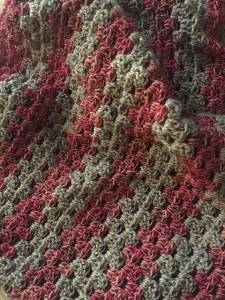 This one is destined for the latest Leary…when she gets here, that is.