Me and fingering weight sweaters, guys.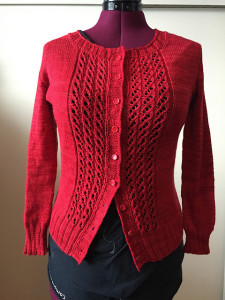 It's a real problem.
I stashed this yarn (Malabrigo Sock in Ravelry Red) way back when I still worked at Annie's with the intention of turning it into this sweater. I've been making a vested interest lately to work through what I've termed "the long-suffering club," patterns that I've had queued on Ravelry upwards of four years. I'm getting there. 🙂
I knit this with very few mods. I'd originally intended to make it a little more cropped (the pattern thoughtfully provides instructions for three different body lengths), but since I had such a wealth of yarn I decided to knit the longest version. I still had a whole ball left over at the end, and most of another. I did add some bust darts to give the ladies a little more room while keeping a close fit in the shoulders, but that was about it. The rest of it was knit as written, and it was great. I love the top-down sleeve construction, so much that I want to do it on everything from now on. As with all of my "work horse" sweaters, I reinforced the button bands with grosgrain ribbon.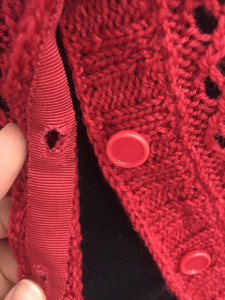 But on this one, I also used Evelyn to stitch around the buttonholes to reinforce them a little more strongly. Overall I'm really happy with the result, and I've no doubt this sweater will be seeing a ton of wear as the weather cools off.