Nancy and I are on a roll, people.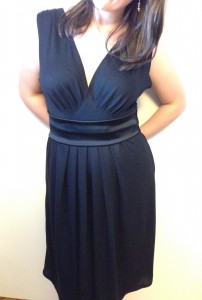 My second finished item for the weekend? A little black dress. I finally own a classic LBD that I can dress up or down as the occasion demands; that's easy to roll up and take away and toss on any time I need to. It's perfect.
And best of all? It's a knit! A gorgeous black wool jersey for the dress, and a stretch satin for the belt. No zippers, no buttons, just pull it over my head and go. The pattern is Vogue 1235, and I'm fairly certain I will be making another one at some point. Despite there being a lot of detail to this pattern (just look at those tucks in the bodice, man), it was easy as pie to put together. The whole shebang only took two days.
The pattern included a back facing, which most of the wise and noble ladies on Pattern Review thought was total bunk. They advocated instead just cutting 2 of the back piece and creating a facing that way, sandwiching the back strap portion of the front pieces between (the pattern instructions told you to just stitch them on last). So I did that. I also didn't use elastic for the shirring on the shoulders, because I wanted the straps to have some structure. So I instead cut strips of my jersey on the non-stretchy grain and used those to hold my gathers and keep the straps nice and firm.
I applied a little fusible web to the narrow hem along the neckline edges for extra support to prevent gaping, and while this was a good call (another helpful tip from the PR ladies), Nancy did not like stitching through that sticky stuff. I had to stop several times to remove the lint that collected around the top of the needle, and after I was done with the web I gave my needle a good rubdown with some rubbing alcohol.
For the last of the minor changes, I skipped the zipper (fabric was stretchy enough without it) and did a narrow hem along the bottom instead of the "t-shirt hem" recommended.
And my one big change? The stretch satin I'd gotten for the midriff section was far too thick for the gathered cummerbund idea the pattern had in mind. So I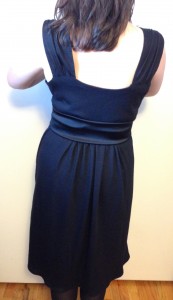 cut the midriff panels in half and just improvised a belt, lapping the ends at my left side and attaching it at the side seams as instructed for the original midriff. While it looks kind funny and droopy when the dress is on the hanger, it fits perfectly on, and provides just a little more waist definition and visual interest than the dress would have without it. I also like the texture change; I feel like it dresses the jersey up a little.
Problems? Very few. Doing a narrow hem on the stretch satin was harrowing, especially since I wound up just slicing it all off with my rotary blade once I determined the drafted midriff wouldn't work. I also need some more experience with sew-in elastic. I just kind of screwed my eyes shut and winged it, but I'm sure there's a better way.
Fit issues? This was a pattern I bought before the great "holy crap they put ease in things!" revelation, so I only had the larger size range. For the ease they recommended, I should have cut the 18, but I cut the 16 instead for about an inch less ease, and I think it was the right choice. There's still a little bit of gape under my arms (you can see it in the front view above). I do see the wisdom in attaching the back straps last, as it would have allowed me to take them up a little bit in response to the weight of the skirt pulling them down my shoulders a bit, but it's honestly a negligible issue and I prefer that they're neatly encased in my back facing "thing." And for what it's worth? I totally did muslin the bodice. I am a good girl.
So all-in-all? A raging success. I am super-happy with this dress. It's comfortable, fits well, and is a great addition to my wardrobe/easy to style with all my existing "stuff." I am one step closer to an entirely me-made wardrobe. And it feels good.
Of course, being wool, this is purely a fall/winter LBD. I guess that means I need to start looking for a warm weather version!