Game-things have returned! YAY!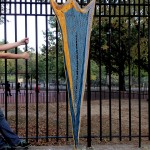 So, from left to right: my finished Color Craving Mystery Knitalong shawl, a Jayne hat for my friend Ian's Halloween getup, the socks I started waaaaaaay back in August from the first installation of the 716knits Firefly Sock Club, a cotton washcloth with a happy little raincloud on it, and another Parseltongue hat in some wonderfully squishy Malabrigo Twist for a swap in my BSG group.
In other October news, I headed upstate to Rhinebeck on October 19 for the New York Sheep and Wool Festival. I bought some yarn, got my book signed by the one and only Gertie, and met up with a passel of folks who I consider friends yet had never met in person before. The internet, folks. It's wild. And then this past weekend ma chère Kathérine came up for a visit. There was brunch and shopping and plays and drinks and yoga and long, long talks, and even some knitting in front of the BBC. Perfection.
In continuing news, it's fall. This means lovely cool bike rides and lots of cooking. The CSA has been oh so friendly lately with its offerings, and there has been apple pie, shepherd's pie, frittata, and pots of delicious greens to eat this month. Our last pickup for the season is next week, and I will be very sorry when the last of it has been cooked up and disappeared from the fridge and pantry. But that also means I had better get cracking on planning our menu for Thanksgiving this year! More on this story as it develops.