The darling Orooni posted this a few days ago over on her blog, and I thought it was both a fun idea and kind of a nice stock-taking of my sock knitting oeuvre. So pardons if you're bored, but onward:
1. Which pair, of all that you have made, are your favorite?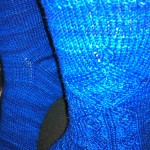 Tough call, but probably my Pendragon socks. Not only was the pattern inspired by one of my favorite book series of all time (The Dark is Rising, by Susan Cooper), but they fit almost perfectly and the yarn, Sundara's old sock base, is super-soft and cushy. Plus the cable on the side is really pretty.
2.  Which pair do you reach for first out of the wash, and why?
It used to be my Neely O'Hara socks (link) that I test knit for Liz over at Feministy, because they fit very well, were a nice neutral gray, and the Malabrigo I knit them out of was very soft and comfy. However I neglected to reinforce the heels, and since they now require darning after every third wear or so, I tend to wear them infrequently. These days my go-to pair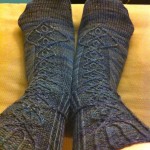 are my Twisted Mockery, also because they're a neutral gray color and they fit well. The Cascade Heritage Sock I knit them from isn't as soft as the Malabrigo, but it has a nice tight twist that makes these feel really smooth on the foot and keeps them comfy to wear with tighter shoes. And all that ribbing on the leg means they stay up really well, too.
3.  Which pair challenged you the most in the knitting? 
That's a tie between my simple stockinette "Agathon" socks (link) and my Naginis. The Agathons were tricky because of how I knit them: I knit both socks at the same time on the same set of dpns, one inside the other. I used two separate balls of yarn to knit the stitches for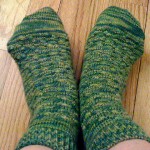 each respective sock, which were alternated on the needles. I had to be especially careful not to knit the "sock #1" stitches with the "sock #2" yarn or vice versa, because that would have yielded two vaguely sock-like things fused together like siamese sock twins. The Nagini socks are gorgeous and hard-wearing and one of my favorite pairs to wear, but I knit them out of a wool/silk-blend yarn and trying to cable all those little 4 stitch twists without a cable needle was murder with such an inelastic yarn. I haven't knit socks with a silk blend yarn to this day.
4.  Which pair is the most disastrous/disappointing, but that you nonetheless finished, perhaps against your better judgment?
I wouldn't call them disastrous, but I really don't like my Jaywalkers, so much so that  I didn't even bother to photograph them. I knit them from a special colorway of Lorna's Laces Shepherd Sock that was meant to be self-striping, thinking it would yield a cool finished sock with all the chevron-ing going on in the pattern. The trouble was that the spacing meant my stripes were only 1 round apiece, so the finished sock resembled TV static more than groovy zigzag stripes. I still wear them all the time, but I pull a face every time I pull them on.
5.  Which socks fit the best? 
Quite a few pairs, like the Pendragon and Twisted Mockery already mentioned. But I also really like my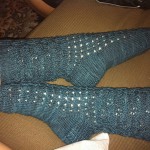 Oolongs, knit from Blue Moon Fiber Arts Socks That Rock Lightweight, which is probably my favorite sock yarn of all time. And my Froot Loops are really cozy too, knit up from a random skein I snagged in someone's long-ago Ravelry destash.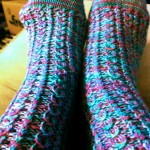 6.  Which pattern could you make again and again and again and again?  Other than plain stockinette.
Since I've already knit Drunken Bees not once (link) but twice (link), I think it's safe to say I'll wind up knitting it again. I also really loved knitting Hedera (link), but since those went to my mom as a very belated Mother's Day gift, I do not have a pair of my own. I really ought to do something about that, huh?
7.  Which pattern left you slinking away in utter defeat, glaring warily over your shoulder?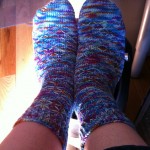 I wouldn't say I've been defeated by it yet, but I queue up The Hub of Fashion (ravlink) for the Self-Imposed Sock Club every year, and I have yet to knit it. So many people have had fit issues with it, and the cast-on is rather elaborate, not to mention the joining on of the toe and top cuff… I guess I'm just intimidated. I also had a really hard time with Leyburn the first time I gave it a go, but by a year later I'd progressed enough in my knitterly knowledge to knock them out with no problem. Maybe, with a little luck and some more procrastinating, the Hub will turn out the same?
8.  Any sock tragedies?
Just the inevitable holes. I've got two pairs right now that are completely out of rotation. I really suck at darning, both the doing and the getting up the gumption sufficient to the occasion thereof.
9.  Do you have any crazy sock-related celebrations looming? 
Can't say that I do. But inspired by Orooni's upcoming sock centennial, I did a quick count: I have knit a lifetime 40 pairs of socks. Wow. If I can average 6 pairs a year, I'll be having a centennial of my own in another ten years!