In January, I knit a sweater: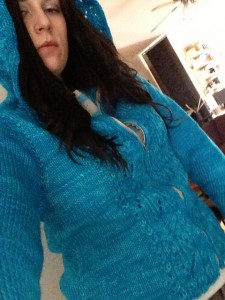 Mr. Boyfriend got a hoodie! I was jealous!
Pattern is the lovely Cithara (link) from the ever-awesome Twist Collective. I knit it out of Tosh Merino, which you might recall from other outings as Snake Hats and Maude Hats. Generally, one wants to avoid using a single-ply yarn with a short fiber stable for something that will see as much friction as a freaking sweater, but the color was far too tempting to leave a single skein at the store. So I came home with sweater stash, and waste not want not, eh? While I'm sure the inevitable pilling will occur, I've made my peace with that fact and instead am taking solace in the total hibernation factor of this garment. It is softer and warmer than anything else I own.
I modeled the measurements off my favorite regular sweatshirt hoodie to ensure I got something infinitely wearable. Good move, me. It hits at just the right spot on my hips, and the sleeves are just long enough to pull over my fists when I want to go for that cozy-emo look. The hood came out a little longer than I like, but since I hardly ever wear hoods up (so why knit a hoodie, you fool?), it's not a deal-breaker.
The pattern is easy to follow and errata-free, but there are some things I would change if I had a do-0ver. The hood and the armholes as drafted are much larger than they need to be, and there's some wonky increase/decrease pairing happening on the sleeve chart that gives the wrists a funky "hooked" appearance. It's not noticeable when wearing, but it does cause the sleeve seam to bunch a bit and feels kind of odd.
And lastly, turned hems. Sigh. Academically, I understand why you would want them to add weight to the bottom edges of this garment and help it stay sturdy and hang properly. But. In practical use, they're so cursedly bulky. It's like hip-and-wrist pillows. And I don't know about you, but I rarely need extra padding anywhere. Except maybe my knees.
So all in all, a comfy and gorgeous sweater of which I'm quite proud. And given the somewhat mercurial weather of late, I'm sure I'll have more chance to wear it before spring takes over for good.