Continuing on the pants-type theme I've got going, I made some shorts!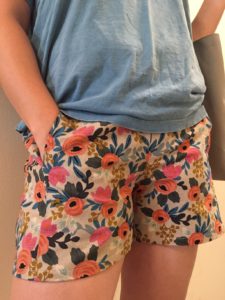 These are Colette's Iris Shorts (pattern is out of print but still available as a download) from Cotton + Steel's amazing Les Fleurs collection, a collaboration with the Rifle Paper Co.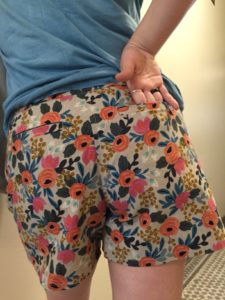 The pattern was a piece o' cake. I even went crazy and added single-welt pockets to the back because MOAR POCKETS ALWAYS. I flat-felled all the seams I could, and either fauxverlocked or serged the rest before seaming. After the wearing/fraying debacle of the Moji Pants, I didn't want to take any chances. And though inserting the invisible zipper at the side gave me fits (I so look forward to the day that putting one of those suckers in is just second nature), these really came together quick and easy. I've worn them 3-4 times since finishing them, and the cotton/linen blend is just getting softer and more awesome and they fit perfectly. I'm really super-thrilled with these. I've got at least one more garment to go before I move on to my plans for fall, but I think these might be my favorite make of the Spring/Summer Wardobe Architect project.
Big thanks to all my ladies of Brooklyn General, of course, for telling me wildly floral-print shorts were a good call, and to Poppy Kettle for her excellent single-welt pocket tutorial. I couldn't have done it without you.