As part of Me-Made May, I am attempting to increase the amount of me-made options in my closet instead of trying to put together a me-made outfit every day. 
I've been a big fan of Gertie's Blog for Better Sewing for quite awhile, so it was a no-brainer that I would get her book when it came out. I've made the pencil skirt pattern before (unblogged, shame on me!) but these are the first two patterns in the book: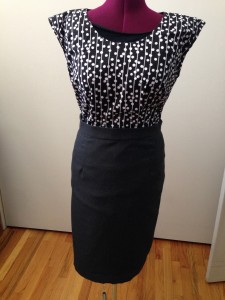 1) Portrait Blouse
I made this from some of the free fabric I stashed from Project Runway last summer, a cotton shirting with what feels like a little lycra or spandex in it. It's definitely got too much body for this pattern, which is meant to be a little more drapey. But on the good side, the stretch meant I didn't have to include the side zip! I bound the raw edges with some green bias tape instead of the narrow hems dictated by the pattern because I thought they'd be too bulky in the thicker cotton and because I didn't want to take up that much length at the hem–the pattern is drafted quite short if you're intending to wear the blouse untucked.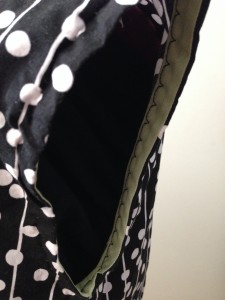 2) The Pencil Skirt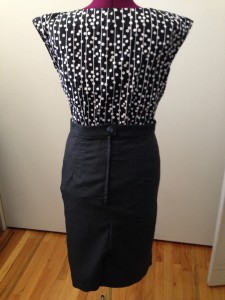 It looks a little funky on Geraldine (my inherited dressform) because she's a little more bootylicious than I, but I am SUPER PROUD of this skirt. Again, the fabric is a Project Runway leftover, a smooth gray wool suiting that was fantastic to work with… I love the way this stuff presses. And on the inside…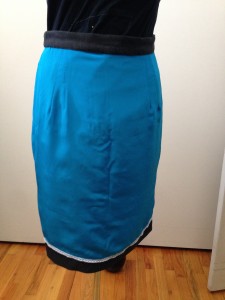 The leftover silk crepe from my Truffle Dress! I had just enough to squeak out a full lining, and I'm so happy I did… it really makes this skirt super-comfy. I applied lace along the bottom edge instead of a hem, and I catch-stitched the lining to the back vent and zipper tape BY HAND, LIKE A BOSS.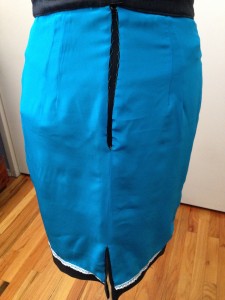 Again, Geraldine makes it look weird, but it fits me perfectly. I have a feeling this is going to see a lot of wear at work this summer!