I make things! Really, I do! I promise!
See?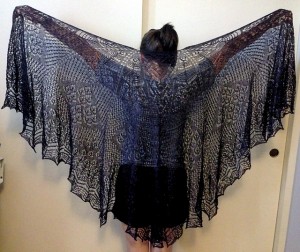 Granted, it seems the only things I blog are ginormous lace shawls. But still.
This is Dracula's Bride (link), a hexagonal lace shawl in two skeins (about 1900 yards) of Madelinetosh Lace in Clematis Heather I had stashed from many moons at Annie's ago. While you can't see them, it's also spangled with little coppery beads. I was going for a very steampunk-y vibe, and I think I succeeded pretty well. It's a large, dark purple, batcape. I kind of love it, but I have no idea where I'll wear it.
And in case the hugeness of this thing is understated by my modeled shot above, here it is blocking: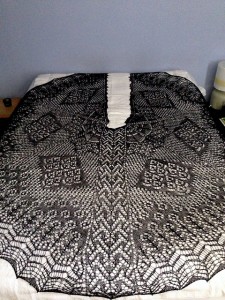 Why yes. It is taking up the entire bed. Thanks for asking!