Well. Here we are.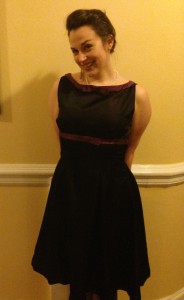 I made a dress. A pretty, vintage-inspired, Mad Men-wannabe Breakfast at Tiffany's dress.
The pattern is Butterick 5603 (link), worked up in a gorgeous polyester taffeta I got at P & S Fabrics. The accent color you see (the pink) is actually the right side of the fabric, but I thought the darker color (and the more satin-like texture of the wrong side) was just gorgeous, and elected to use that instead. I got the pattern as a digital download, and I have to say that it sort of takes away from the whole "instant gratification" aspect of digital delivery when you have to tape all the pages together and then cut stuff out. Oy. Needless to say, I'm limiting future digital purchases to patterns with predictably fewer/less fiddly pattern pieces.
I got a simple rayon china silk-type fabric for the lining. Both fabrics were a touch slippery, and a real bear to cut. I've since invested in (though have not used) a rotary cutter and mat, so hopefully my next go with fabrics of that type will be much more smooth(haha)-sailing. The putting together of this garment was actually quite detailed, and it took me a decent amount of time. To be fair, I did put it away to hibernate for quite awhile when our plans changed and stopped us from attending the wedding to which I'd initially intended to wear it. I picked it up again last month when I was desperate to sew something but didn't want to have to cut, the skirt panels for the front and back assembled but separate from each other, and the entire bodice still to be done. I plowed through the whole thing in one weekend, only stopped because I ran short of the horsehair braid I was using on the hem with only a yard of hemline left to go. Curses. Since the small (but surprisingly nice!) fabric shop around the corner from home didn't carry it, finishing the hem had to wait until I could manage another trip to P & S. Luckily, yet another wedding just this past weekend had replaced the pressure to finish, and I got everything done and dusted on St. Patrick's Day.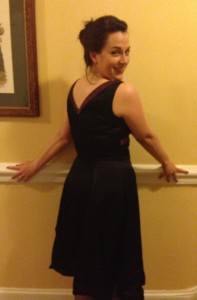 Notes? I hate hemming. Especially circle skirts. But I attached a bit of horsehair braid as outlined by Gertie (link), and then blind-hemmed that to the body of the skirt. Next time I do a skirt like this, I'll underline it and do the hem with a catchstitch. LIKE A CRAZY PERSON. But I've no doubt it will look better. And while the midriff fits (which shocked me), it's too long. Had I muslined, I would have caught that, and there wouldn't be wrinkles of extra fabric across my back. Also, I cut a uniform 16, which is a bit too roomy in the shoulders. I put in lingerie snaps because the boatneck of this design would need it regardless, but the position of the straps on my shoulders and the little bit of gaping along the front collar make it plain that there is too much ease there. I should have cut a 14 in the shoulders and graded out, though I'm not sure exactly how—the fit in the bust feels almost perfect, but there's just a bit of gaping under my arms. Hmmm. I also need a lot more practice putting in zippers and sewing v-necks, but for these being my first attempts, I don't think either are too much a train wreck. In general, I feel my imperfect cutting presents a lot of hurdles that I am then forced to overcome with my sewing, like the unevenness in the width of the collar facing. So self: get better at cutting, stat.
Now that I've picked it apart? The things I like/am proud of about this dress:
Well, I made it. That's a big one.
With the exception of the side seam where the zipper went, I did French seams on all the skirt gores. I am wicked proud of my fancy finishing there.
I am quite proud of how the lining turned out. It isn't perfect, but I matched the gathers relatively well and the finishing over the zipper and under the bust is solid. I can understand now why so many sewists like to finish by hand. It does take ages, but it also offers considerably more control.
And lastly? Despite all its problems, it doesn't look totally home-ec. So I call that a win!
Now please excuse me. I need to go find a cigarette holder.
Photos were taken at the White Plains Women's Center where Mr. Boyfriend and I attended a wedding this past Saturday. The aforementioned significant other/official photographer was adamant that his tie match my dress, and cut himself a pocket square out of my remnants. Isn't he just the best? Not to mention incredibly handsome: