Back in March, I made a dress-type thing: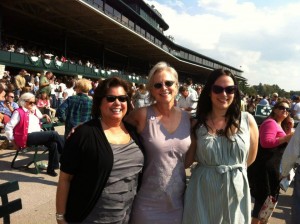 I'm still in a bit of shock, really.
It's made from a textured striped Nanette Lepore cotton/lycra blend. It's a stiff fabric with a lot of body, so I hope it settles a bit with wear. Right now when I sit down, my dress likes to hike up a bit.
I didn't, despite my excellent intentions, make a muslin for this pattern, mainly because I purchased the larger size set and knew I would cut the smallest (16), which seems on paper to match my measurements. The fit in the bottom was great, but the top? Not so much. I took it in about 1/2″ under the arms at either side, which helped a little. But the shoulders are set really wide, and it makes me think I probably could have used a 14, or even a 12, on top for a proper fit.
I got to try out some really fun tricks with this pattern, including an all-in-one facing that saves you some hand-sewing (link to tutorial I used), and my first-ever blind hem. I learned that a) the front facing for this pattern is drafted seriously short, and b) changing presser feet on my machine is super easy. The facing turned out pretty well, though I will have to remember to finish the raw edge of it before sewing my side seams next time (duh). I didn't interface the front piece because my fabric was already so stiff, but I do wish I'd added a bit of length to help it keep from flipping. As it was, I tacked it to the back side of the bodice pleats to keep it in place. I cut the dress pieces a bit longer so I'd have more leeway when hemming, and I'm glad I did. I wound up only hemming about 1″ rather than the recommended 1 1/2″
Though the pattern doesn't explicitly instruct you to, I also stitched down my pleats. Glad I did, too. I also did honest-to-goodness belt loops rather than the thread ones the pattern recommended. I haven't done the lingerie snaps yet, but given the aforementioned broad shoulders, I definitely will to prevent unsightly bra strap escape.
Despite the fit issues, I really like the way this turned out. It's comfortable, and the pattern is great for no-waisted ladies such as myself. I have to give a hearty thanks to patternreview.com and their fabulous community of sewists for all the reviews and tips. Basically every change that I made to this pattern was gleaned from their helpful reviews, not to mention the fact that every problem I faced with this (except messing up the pockets, that was all me) I was forewarned about. It's a great resource.