So I began last night's dinner with Smitten Kitchen's creamed chard recipe (link) as a jumping-off point. This was the right thing to do. Since I had no spring onions, and a wealth of garlic scapes, I did a little swap. Also, because I did not want to kill the lactose-intolerant Mr. Boyfriend, I used almond milk instead of cow milk. So here we go.
2 bunches chard, thick ribs removed and leaves cut into ribbons
6 garlic scapes, chopped in 1/2 in. pieces
2 pieces thick-cut bacon
2 Tbsp unsalted butter
1 1/2 c. plain unsweetened almond milk
1/4 c. water
3 Tbsp flour
salt and pepper to taste
2 c. dry whole-wheat pasta (penne, farfalle, or similar)
6 c. water
3 slices provolone cheese (or 1/2 c. if grated)
1/2 c. bread crumbs
In a decent-sized pot, boil your 6 c. of water with a liberal amount of salt. Once it hits a rolling boil, add pasta and cook until it's a just too firm to eat. Drain, and set aside. Return pot to stove.
Over mediumish heat, wilt your chard ribbons: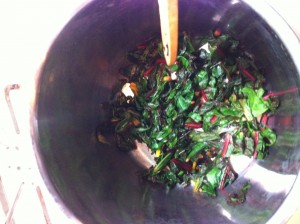 Once they're all droopy, dump them in a sieve or dish and set aside. Once they've cooled, you can squeeze the excess moisture out. It's fun. It looks like you're squeezing blood out of a lump of swamp matter. Chard is fun.
Wipe your pot out with a damp paper towel, and turn your heat back to mediumish. Lay your bacon in there and fry it, turning often to prevent burning. Once finished, set them to drain on a paper towel, reserving the grease in the pot. Chop the cooked bacon into little chunks. Mix your milk and your 1/4 c. water, and heat by whatever means you choose to "warm." Assemble your scapes, flour, milk, and butter.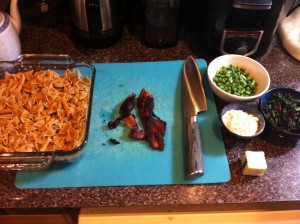 Toss butter in pot with the reserved bacon grease, still over mediumish heat. Once the butter has mostly melted, throw in the scapes. Cook until they start to soften, then toss in the flour. Whisk in the flour continually till all the grease is soaked up and all the scapes are coated, and the flour doesn't look so starchy.
Add the milk in a slow stream, whisking constantly to prevent lumps. Lower the heat. Come back and stir on occasion, but you want this mixture to simmer a very little bit. IMPORTANT: you do not want this to thicken too much. You want it, in fact, to be a little more liquid than you think it should be, because more water will cook out in the next step. Add your chard and your bacon bits, and stir through. Add salt and pepper to taste. Put your cooked pasta in a baking dish, then pour your creamed chard over the top.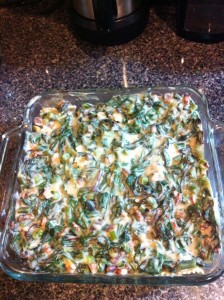 Layer on your provolone and bread crumbs to cover the top, and bake at 300° until the cheese is melted and the top is browned. Scoop and serve.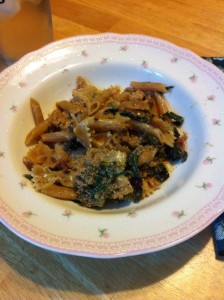 I cooked the sauce a bit too long, so ours was drier than I would have liked. But overall, really really tasty. And a decidedly decadent way to use up a lot of CSA greens.
And oh yeah. A MONSTER!