So the dedicated reader might have muddled through enough of the last post to winkle out that Mr. Boyfriend and I spent the weekend in Chicago a little while ago. We were there visiting some friends, the very same friends who were wed in September, the bride being the lady for whom I made this: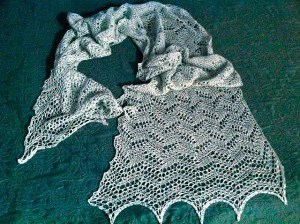 Her new husband was kind enough to lend some of his photographic skill to taking some modeled shots. May I present scarf in action?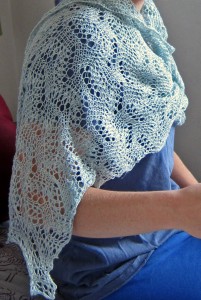 Sigh.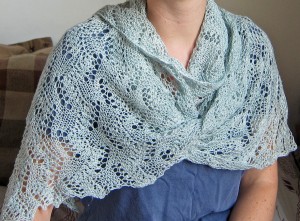 Amazing the difference a proper model makes, eh? So very pretty and cloudlike. And luckily, it's warm, so it may also do her some good against the bitter cold of Chicago winter.
Oh yeah. The groom also took this shot of me and Mr. Boyfriend whilst we visited: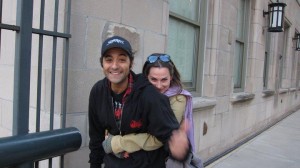 Other than it looking like I'm about to bite him, it's a pretty good picture. Also, that building behind us was pretty nifty. All those protruding rocks you see embedded in the wall had engravings noting where they came from. There was petrified redwood from California, a piece of the Berlin Wall, and other rocks of note and renown. Pretty cool, Chicago. Keep it up.